Sheebes is here to give mental toughness tips and resources to help you, the endurance athlete, achieve your personal best. To keep the lights on and content free, we are a participant in the Amazon Services program and other select affiliate networks. This means if you click on an affiliate link below, Sheebes will earn a small commission, at no cost to you.
---
If you're running a marathon soon, then this post is for you.
Here, you'll learn the 4 best marathon mental strategies that will get you ready for the mental challenge of running 26.2 miles.
Because you know your mind is powerful. It keeps you entertained on long runs, and it pushes you to run farther on days when running feels like a chore.
But your mind shouldn't wear you down and drain your energy before you even begin your race.
So let's dive into the tips you need to know for running a marathon.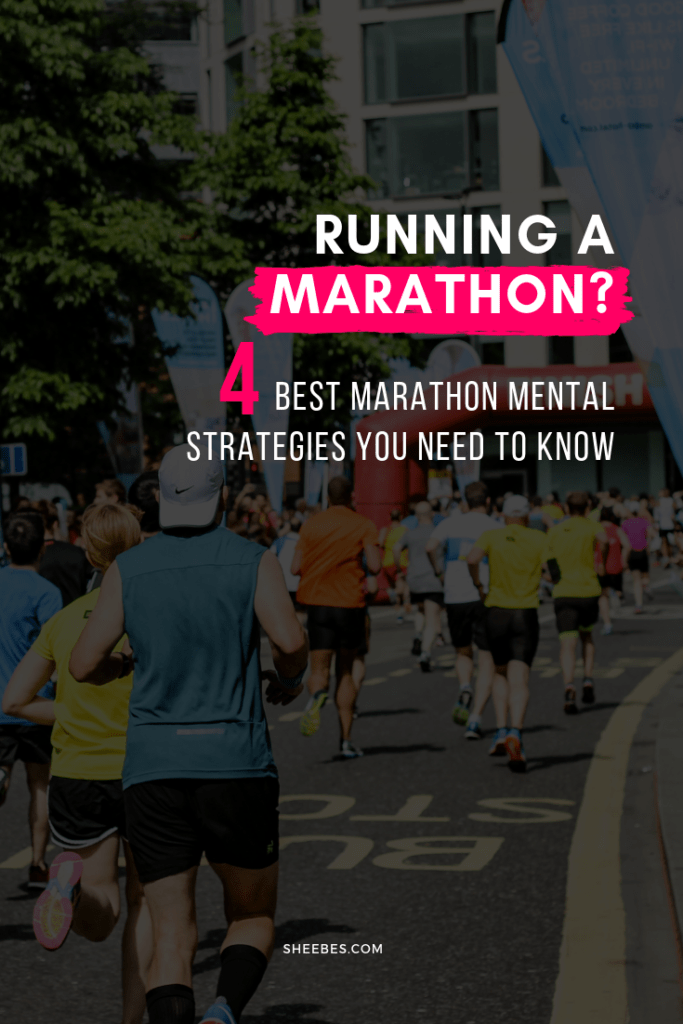 ---
The 4 Best Marathon Mental Strategies You Need to Know

"How do I handle my pre-marathon nerves?"
The marathon taper seems easy on paper. Running less has got to be easier than pushing to run a certain distance and pace, right?
Apparently, that's not at all true. Legs suddenly feel heavy. Aches and pains magically appear. And to top it off, your nerves are here to make you second guess yourself and your training.
To remain calm, the marathon taper demands nerves of steel.
So if your taper is getting the best of you, then you will want to read this post.
You'll learn 4 strategies that will help you reduce pre-race pressure and calm your nerves.
Read it now: Pre-Marathon Nerves? How to Overcome Your Taper Anxiety
---

"I'm not ready. I should have run more."
No runner is immune to this thought. Every runner, at the end of a training program, wonders whether they did enough.
I assure you. You did.
But you must convince yourself you're ready to run this marathon. And to do that, we must look at a specific part of the brain—the reticular activating system, or RAS for short.
The RAS is a network of neurons and neural fibers that start at the brain stem to help manage sleep, breathing, and heart rate. It also spots, selects, and keeps information to support your current beliefs.
So if you believe you're not ready to run a marathon, you'll look for evidence to support your claim: You didn't do enough long runs, or you didn't do enough speed work. And your RAS may accept those thoughts as irrefutable evidence of your unpreparedness.
But, you can fill your RAS with specific information to support a different claim: You are ready.
You can strengthen your belief you're ready to run this marathon. Remember the tough runs when you wanted to quit but didn't. Think of the times when you squeezed in a run, even though life was busy. Remember the burn of a speed session where you hit your paces.
Highlight the good stuff because the more information you feed your RAS, the more powerful your belief. Because when you believe you are ready, you will be.
---

"I still have 12 more miles to go. It hurts too much to keep running."
One thing is certain in a marathon: the pain will appear.
But as painful as it is, you have trained your body to perform over 26.2 miles. Though you may be tempted to slow down, or throw in the towel, you can teach yourself to dig a little deeper.
In this post, How to Dig Deep in a Race, you'll find two counterintuitive ways that'll help you gather the strength to finish your race. You'll learn why these strategies work, how to use them in your marathon, and how elite marathoners use this advice in their own races.
Once you've read through the two ways to dig deep, have a look at this video.
In this TED talk, you'll hear from Ned Phillips, an ultra runner and triathlete who was initially skeptical about the importance of mental training. But, he soon realized otherwise. Find out what changed his mind and how you can use the lesson he learned in your own marathon.
---

"My race didn't go as planned."
Sometimes races don't go as planned. (If only they did.) And to say that it's incredibly disappointing is an understatement.
Sometimes, good runners have bad races. Saying this doesn't remove the sting of a bad race and the fact remains—it's still a bummer.
But a bad race, a DNF, or a lackluster result doesn't define you or your ability as a runner.
When you're ready, there are three tips to help you process your race and help you rekindle your desire to run again. You can make a strong comeback after a disappointing race.
Read it now: DNF? The Tips You Need to Know on Bouncing Back from a Bad Race.
---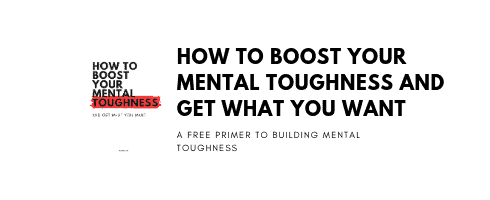 ---
Stay calm, relaxed, and healthy before your marathon with these picks…
---
Sources
The Runner's Brain: How to Think Smarter to Run Better, Dr. Jeff Brown, Lis Neporent