Whether you're a triathlete or thinking about tackling a triathlon, you'll find a good dose of inspiration in these triathlon films.
Need a quick watch? Check out The Journey. Want to see how triathletes from around the world take on a triathlon? Then you've got to watch We are Triathletes.
Though these 5 inspirational triathlon movies and documentaries are distinct, they illustrate one sure thing—triathletes are tough, resilient people.
Welcome to Sheebes—the site that's here to help you build your mental toughness and pursue new personal records.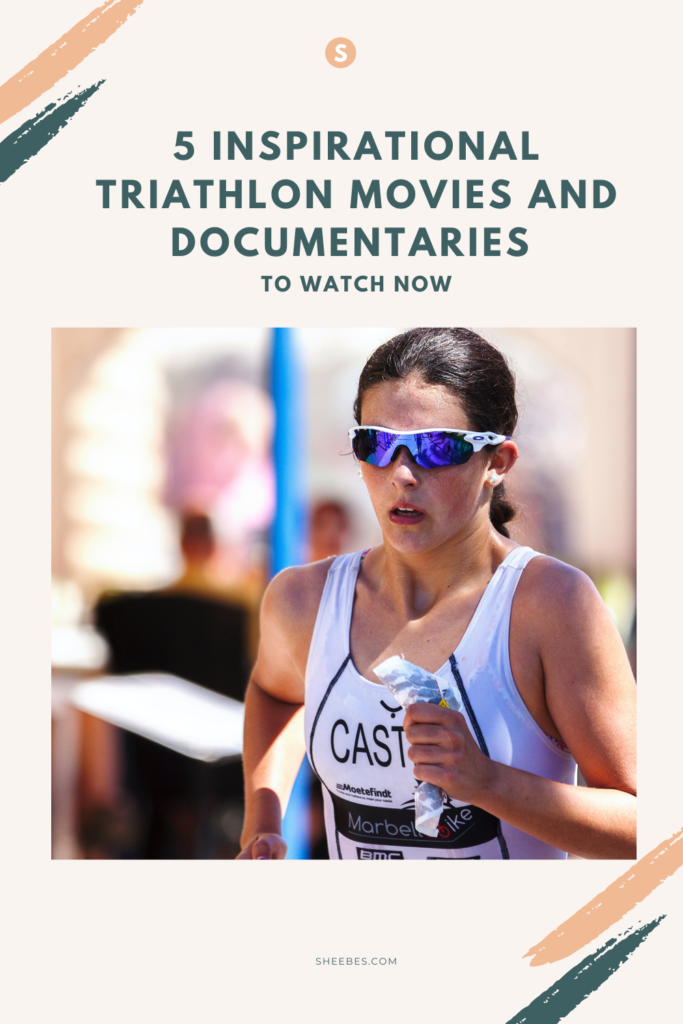 Sheebes is here to give mental toughness tips and resources to help you, the endurance athlete, achieve your personal best. To keep the lights on and content free, we are a participant in the Amazon Services program and other select affiliate networks. This means if you click on an affiliate link below, Sheebes will earn a small commission, at no cost to you.
---
5 INSPIRATIONAL TRIATHLON MOVIES AND DOCUMENTARIES TO WATCH NOW

100 Meters, released in 2016, is a Spanish film (with English subtitles) inspired by the true story of Ramón Arroyo.
Ramón—a father and husband—started having difficulty with tasks that were once easy. A visit to the doctor revealed he had multiple sclerosis (MS), a disease of the central nervous system.
Though MS symptoms vary by individual, one of Ramon's symptoms included an impaired ability to walk. And paired with these debilitating symptoms, a doomed forecast: Eventually, he wouldn't be able to walk 100 meters.
Determined to defy the odds, Ramón decided to train for a long-distance triathlon. His coach? His surly, offensive father-in-law with unconventional training methods.
And the big question is: Does Ramón finish his triathlon? Though you could look up the answer, this inspirational triathlon movie is well worth your time.
You can find 100 Meters on Netflix, but you can also watch the trailer here: 100 Meters, Vimeo

The Journey is an inspirational 13-minute film by storyteller Zack Johnson.
This story is about Joe, a self-described couch potato, who needed to change his life through diet and exercise.
Rather than diet, Joe became physically active. And not just any physical fitness—triathlons.
So Joe got to work, although he hadn't swum in years, had no bike, and little running experience. That was about 9 years ago.
Today, Joe's ready to race a full Ironman. This is his race day.
"You can stop and the pain will stop. But you won't get across the line until you live fully."
Watch the 13-minute film here: The Journey, YouTube

The Last Mile is about four triathletes—two pro and two age groupers—and their unique struggles.
They're training for the 2017 Penticton Triathlon World Championships and it's not easy.
Jeff Symonds, a professional athlete, is trying to shake off several DNFs, learn from his mistakes, and progress in his performance.
Jen Annett, another pro athlete, is adapting to training post brain injury, while balancing family life.
George Zradicka, age 65, must train to pick up his pace and meet imposed time cut-offs.
And Daisy Tse, age 44, must maintain a balance between training, work, and staving off boredom.
Though these athletes have individual struggles, the qualities they possess are the same—strength, determination, and grit.
Watch the video here: The Last Mile, YouTube

"The best goals are the ones that are a bit crazy."
Tim Don, Olympian and triathlon World Champion, set his sights on the 2017 Ironman World Championships in Kona, Hawaii.
But two days before the race, while riding in the bike lane, a truck hit Tim and broke his neck.
The best option for full recovery—that is, to return to racing—was a halo.
The Man with the Halo is an Ironman documentary that highlights Tim Don's determination, grit, and comeback.
Watch the video here: The Man with the Halo, YouTube
Looking for another Ironman documentary? Watch:

We are Triathletes, released in 2018, follows 6 triathletes as they prepare for the Challenge Roth in Germany.
You'll meet:
Miranda Carfrae, an Australian athlete and Ironman Champion, who now lives in Boulder, Colorado.
Luke McKenzie, an Australian professional athlete and Ironman Champion.
Qi Dang from Beijing, China, an Ironman triathlete, who loves to inspire other aspiring athletes.
Bessy Leszczynski, who lives San Diego, and wanted to do something challenging and big.
Rudy Garcia-Tolson, who was born with a congenital birth defect and told he'd never run or ride a bike.
Felix Walchshoefer, the CEO of Challenge Family and Race Director of Challenge Roth.
Watch the video here: We are Triathletes, Amazon
---