New runner or veteran, women's running accessories can make or break your run.
And if you're looking for the best running accessories for women, then this post is for you.
You'll find:
The best running shoes for women
The best running socks to help you prevent blisters
Essential women's running safety gear
Winter running accessories for women
Women's running nutrition and hydration gear
The top running apps to keep you motivated
And, a runner's not-so-secret weapon: a running journal
Welcome to Sheebes—the site that's here to help you build your mental toughness and pursue new personal records.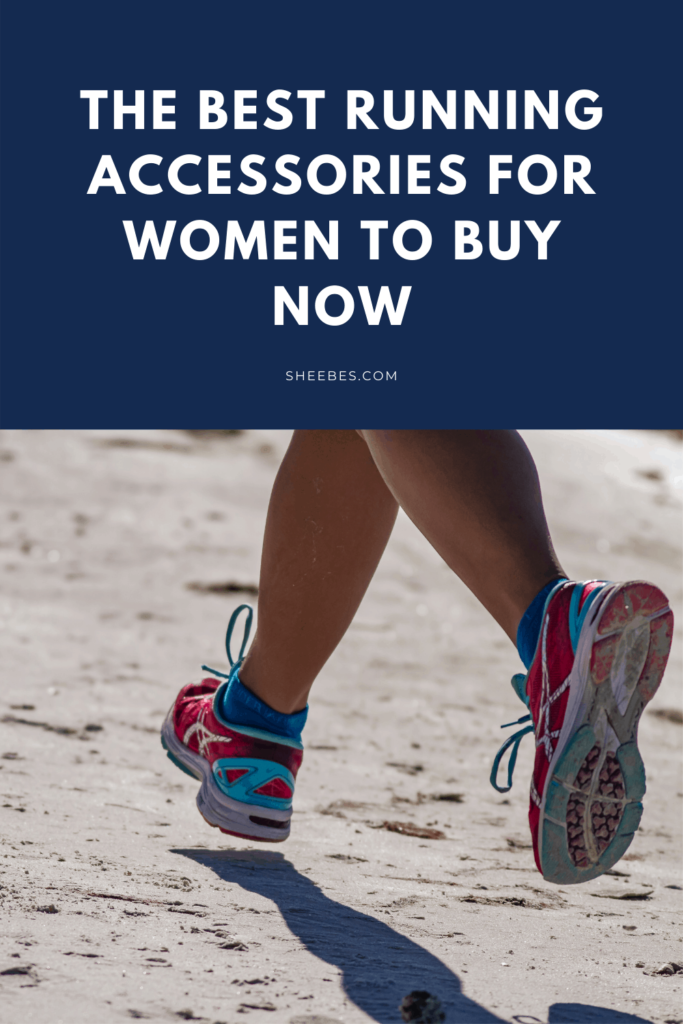 Sheebes is here to give mental toughness tips and resources to help you, the endurance athlete, achieve your personal best. To keep the lights on and content free, we are a participant in the Amazon Services program and other select affiliate networks. This means if you click on an affiliate link below, Sheebes will earn a small commission, at no cost to you.
---
THE BEST RUNNING SHOES FOR WOMEN
Whether you're a new runner or have been running for years, running shoes are indispensable.
But with a dizzying array of running shoes to choose from, where should you start?
You could visit a local running store for personalized recommendations or start with these best running shoes for women.

The Brooks Adrenaline GTS style has been a best-selling running shoe for years. And it's easy to see why—this style cushions your step and gives your feet support and stability as you're running.

If you don't need as much support as the GTS shoe, you might like the Ghost shoe, which has a cushioned, smooth, yet flexible fit.

Prefer a lightweight running shoe? You might like the Nike Women's Revolution that's made from breathable knit fabric.

If you plan on logging more miles, then the Gel Nimbus will give you a cushioned and supportive feel. But note, this style runs narrow at the toe box, so it might not work for all runners.
Try a wide range of running shoes, run in them for a bit, and though you could get swept up in the technical details of running shoes, the best running shoes are ones that feel comfortable to you.

The best running shoes are ones that feel comfortable to you.

RUNNING SOCKS AND ANTI-CHAFE CREAM, AKA HOW TO PREVENT BLISTERS WHEN RUNNING
Blisters, the result of friction, can stop your run in its tracks, but you can minimize friction and prevent blisters from running with two pieces of running accessories—non-cotton running socks and anti-chafe cream.
1| Use non-cotton running socks
Cotton is like a sponge for sweat, which increases friction and leads to blisters. Instead, look for running socks made with non-cotton fibers.
The best socks to prevent blisters when you're running:
Balega running socks wicks away moisture and is made of the softest fabric to reduce chafing and blisters. You'll find Balega running socks in a variety of styles and thicknesses.
Showers Pass waterproof socks for rainy runs. Showers Pass waterproof socks are thicker, so you might have to re-check your running shoe fit. After a series of rainy Seattle runs, these waterproof socks do keep feet dry. But note, if you run through a puddle, you'll feel the water temperature, but that doesn't mean your socks are wet.
2| Slather on the anti-chafe cream
After stocking up on running socks, for extra protection against chafing (a skin irritation from constant friction), and to prevent blisters from running, try an anti-chafe cream.
Anti-chafe creams (like the ones below) act as a protective barrier on spots prone to chafing and irritation and can withstand the sweatiest of runs.
THE WOMEN'S RUNNING SAFETY GEAR TO KEEP YOU SAFE
Peace of mind is one of the most valued pieces of women's running gear to have. (Do you agree? Leave a comment below at the end of this post if you do.)
You'll find a list of women's running accessories here that can give you a sense of safety and peace of mind when you're running alone. (For even more running safety tips and safety apps, come on over and read this post.)
Garmin 645, to track your mileage, pace, heart rate, listen to music, and use Garmin Pay. And for running safety, the Garmin 645 lets you activate an assistance alert to send a message with your current location to your emergency contacts.
WINTER RUNNING ACCESSORIES FOR WOMEN
Deciding what to wear on a winter run is always tricky—if you overdress then you might overheat, but underdress and you might freeze—neither are good.
Dressing for a winter run may never be just right, but these few pieces of winter running gear can help.
WOMEN'S RUNNING NUTRITION AND HYDRATION GEAR
If you're running on a hot summer day or on a long training run, then a water bottle is an indispensable piece of women's running gear.
Try:
Nathan Handheld water bottle for shorter runs. But note, this has to be held upright or it spills. And, it takes a little work to screw the lid on tight.
Nathan Vaporhowe Hydration Pack. If you don't like holding a water bottle, then this women's hydration pack might serve you well. It's bounce-free with plenty of pockets. Some versions of this vest come with two water bottles in the front pockets, but they may dig into your chest and create discomfort over the long haul. Fortunately, the back hydration bottle alone holds plenty of water.
And if you need running fuel, try:
THE TOP RUNNING APPS TO KEEP YOU MOTIVATED
Running apps can help you train for a race, keep running fun, and motivate you to keep going.
If you're looking for a running app, try:
Need a coach in your ear? You might like the audio guided run in this free Nike app.
You don't have to have a Peloton Tread to try an instructor-led treadmill walk/ run or running class. With the app, you'll find classes that range anywhere between 10—60 minutes, for runners of all levels.
The app's free for 30 days and $12.99 a month after the free trial.
If you're serious about having fun while running at home, then you might like Zwift. Here in Watopia (Zwift's virtual island), you can run virtually with runners around the globe.
But note, if you don't have a Bluetooth-enabled treadmill, you'll need a footpad and a media device to stream Zwift.
The app's free to download, but you'll need to pay a monthly subscription of roughly $14.99 a month.

THE BEST WOMEN'S RUNNING GEAR: A RUNNING JOURNAL
One of the best accessories for running is a running journal to capture your running journey—your running goals, progress, and accomplishments. It's also the secret weapon for boosting your running motivation.
If you don't have one, try:
She believed she could, so she did running planner
Runner's World Training Journal
CONCLUSION
There you have it—the best women's running accessories to stock up now. Need a quick list of the products listed in this post?
Here it is.
Top women's running shoes:
Women's running socks:
Prevent blisters with:
Essential women's running accessories—running safety gear:
Running accessories for women—winter running:
And if you need running fuel, try:
Top running apps:
Running journals:
She believed she could, so she did running planner
Runner's World Training Journal
Wondering where you should buy women's running accessories? You might want to head on over to Road Runner Sports to find running accessories for women.