---
If you're a cyclist who gains immense satisfaction from seeing your Strava stats improve, you know how satisfying it is test yourself and push your limits.
And to move past your limits, you must know how to suffer when you're cycling. Because suffering on your bike is an inescapable reality.
If you've ever wondered if there was a systematic, deliberate way to suffer, then this is a must read.
Read on to learn why you must train to suffer. Plus, specific tips on how to suffer when you're cycling.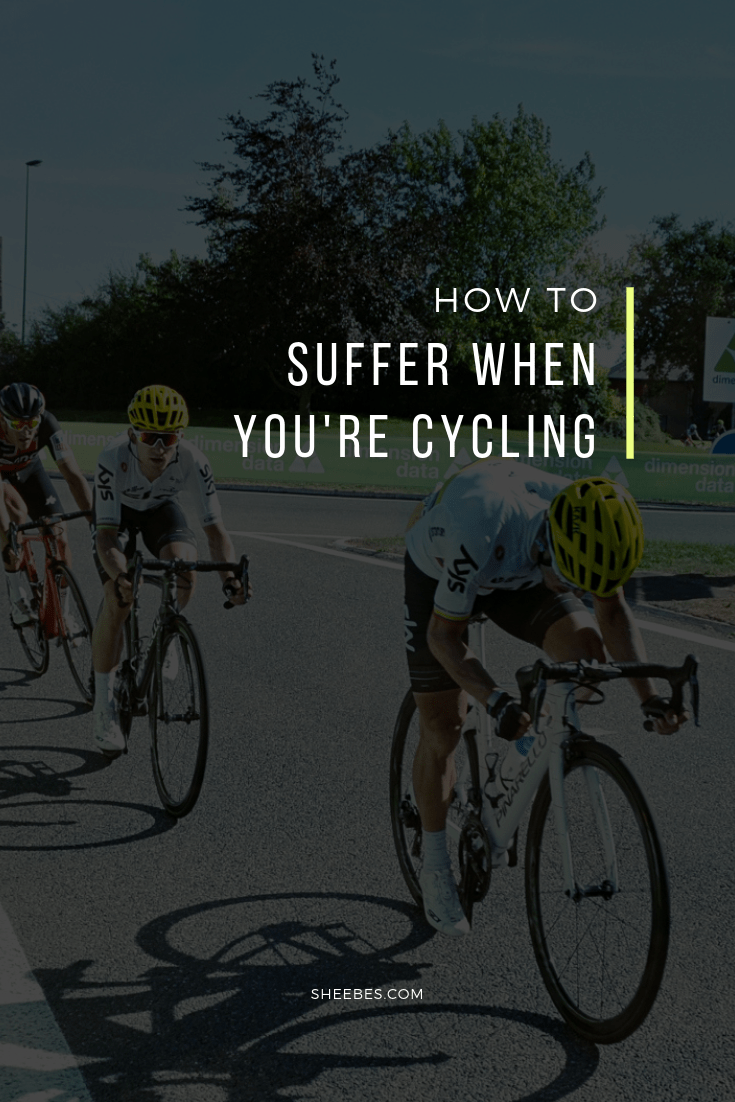 Sheebes is here to give mental toughness tips and resources to help you, the endurance athlete, achieve your personal best. To keep the lights on and content free, we are a participant in the Amazon Services program and other select affiliate networks. This means if you click on an affiliate link below, Sheebes will earn a small commission, at no cost to you.
---
WHY SUFFERING ON YOUR BIKE IS A GOOD THING
Suffering on your bike isn't always a requirement. But hard days make easy rides so much more rewarding. If you're out riding alone, then this is an important read: Cycling Alone? Essential Tips You Need to Know.
You also build your ability to suffer and your mental toughness every time you enter the pain cave. You're teaching your mind and body to handle riding and racing hard, and that you can survive it.
YOUR MIND HAS A MAJOR IMPACT ON YOUR ABILITY TO SUFFER
Professor Samuele Marcora is the Director of Research at the University of Kent. He studies endurance performance and has conducted several cycling studies.
In one experiment, Marcora questioned where our limits lived – in our muscles or our minds?
So he recruited 10 rugby players and placed them on a stationary bike.
First, the rugby players pedaled at their maximum effort for five-seconds. Then, they rode for about 12-minutes at 242 watts before tiring. Immediately after those 12-minutes, the rugby players repeated another five-second maximum effort spurt.
As expected, the players didn't produce as much power in the second five-second effort as the first. In the first test, the average output was 1075 watts while the second test was 731 watts. (You too can measure your power output and pedal efficiency with these pedals.)
Still, the rugby players yielded three times their power in the second test.
According to traditional models, athletes cycling to exhaustion at 242 watts couldn't produce 731 watts for five seconds after an endurance effort. If they were exhausted, then they wouldn't have enough energy to pedal any longer after a 12-minute sweat fest.
So if your muscles aren't a limiting factor, then what is? And, will a mentally demanding task reduce your ability to push hard?
To answer this question, Marcora created another experiment. This study had two parts to it:
Athletes did a mentally demanding task for 90 minutes. After 90 minutes, the athletes completed a time to exhaustion test.

The same athletes watched a movie for 90 minutes, then did a time to exhaustion test.
The athletes' physical results were the same regardless if they did a mentally taxing task or not.
But when the athletes were mentally fatigued, they thought they were working much harder and tired more quickly.
Mental fatigue, Marcora found, is a major factor in how hard you think you're working.
What does that mean for you?
When you're tired, you're more likely to feel you're working and suffering even more than when you're relaxed and rested.
So how do you overcome this? Read on for a few tips on how to suffer when you're cycling.
THE TIPS ON HOW TO SUFFER WHEN YOU'RE CYCLING
Distract yourself. Focus on something other than the pain you're feeling or you'll keep thinking about how much it hurts.
You could:
✓ Focus on someone's rear wheel.
✓ Count your pedal stroke.
✓ Help another cyclist (Find out more about why this works here: How to Dig Deep in a Race.)
Reel it in. Climbing a hill? Pick say, a tree, to climb toward and imagine a tether attached to the tree that's pulling you uphill.
Or, pick a cyclist ahead of you and concentrate on closing the gap.
Ride when you're mentally tired. Schedule your hard sessions for when you've had a mentally taxing day.
That sounds like a real suffer fest, right? That's the point.
When you've had a hard day and want to chill is precisely when you need to hop on the bike to build your ability to suffer.
You're training your mind and body to keep pushing and manage pain when you're tired and want to quit.
Use motivational self-talk. Studies have shown that motivational self-talk statements help cyclists pedal longer, faster, and with more power output.
It'll take some trial and error to find the motivational statements that's most effective for you, but here are a few ideas to get you started:
"You're doing well."
"It's on."
"Strong and powerful."
"Smooth and fast."
We have limits on how much suffering we're willing to handle. And our perception of effort is really a safety measure to keep us safe.
So you slow down because you feel you can't go any longer or faster. Not because you actually can't.
But you can train to handle increasing loads of pain.
It never gets less painful but you can get better at suffering.
---