Behind every pro cycling team, a chef is whipping up the best nutrition for cyclists to keep the team fueled.
But you don't have to be a cyclist on Team Sky or Orica-Scott for access to their chef's recipes.
Fortunately, these team chefs published their recipes in the cookbooks listed below where they share:
What to eat before an afternoon ride
How to fuel your body based on your training
Easy, quick meals made for busy cyclists
If you've ever wondered how to eat well as a cyclist or need new recipes, the books on this list will light the way.
Welcome to Sheebes—the site that's here to help you build your mental toughness and pursue new personal records.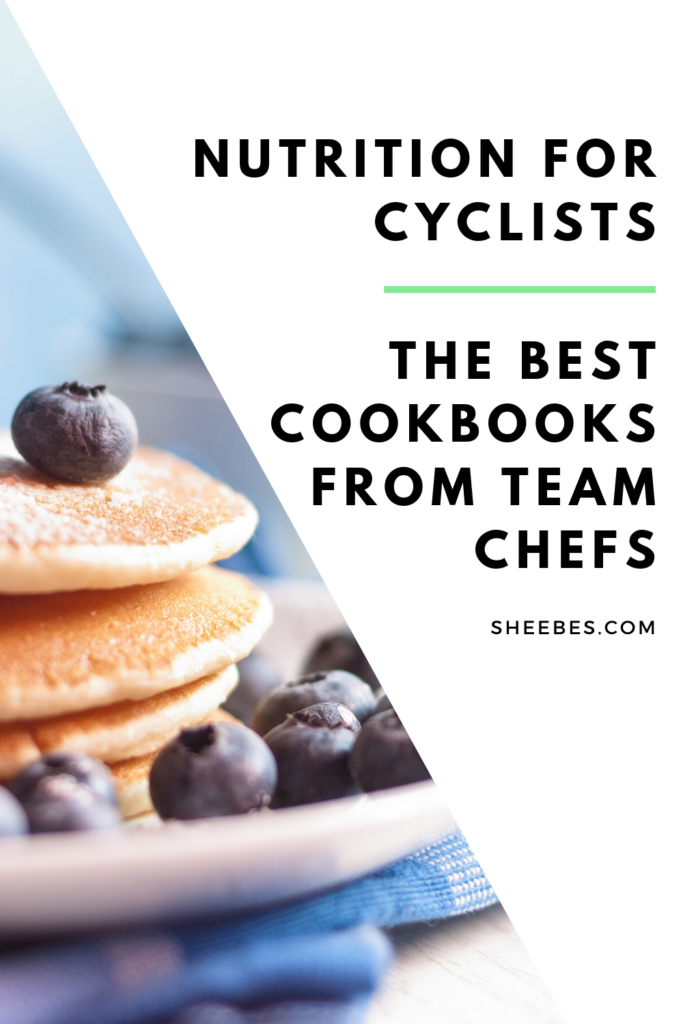 Sheebes is here to give mental toughness tips and resources to help you, the endurance athlete, achieve your personal best. To keep the lights on and content free, we are a participant in the Amazon Services program and other select affiliate networks. This means if you click on an affiliate link below, Sheebes will earn a small commission, at no cost to you.
---
The best nutrition for cyclists, the cookbooks from pro cycling team chefs

Fuel Your Ride, Molly Hurford and Nanci Guest
Have you wondered what to eat before a hard effort? Or before, during, and after any bike ride?
If you have, then Fuel Your Ride might have the answers you're looking for. 
You'll learn:
When to eat a protein-dense breakfast for an afternoon ride
Why you should consume food that has protein and fat for a century
How to fuel your body based on your training and lifestyle

The Grand Tour Cookbook, Hannah Grant
Do you want to emulate the eating habits of Tour de France cyclists? Or are you curious about how cyclists fuel this grueling race?
You can sneak a peek into how the pros eat for performance—with recipes— in The Grand Tour Cookbook. 

Eat Race Win, Hannah Grant, Stacy Sims
Did you catch the mouth-watering dishes in the documentary Eat. Race. Win.? 
This documentary is a behind the scenes glimpse into Australia's pro cycling team, Orica-Scott, in the 104th Tour de France. It's also a look into Chef Hannah Grant's journey as she sources fresh, local ingredients to feed the team throughout this 21-day race.
And if you wanted to enjoy those meals at home, you can with the Eat Race Win cookbook. 

The Cycling Chef, Alan Murchison
If you don't have the energy to create elaborate meals between riding, work, and life, then The Cycling Chef might be perfect for you. 
Within these pages, you'll find 75 easy 30-minute recipes—designed for cyclists—from Michelin-starred chef Alan Murchinson.

Fueling the Cycling Revolution, Nigel Mitchell
The food you eat can make or break your cycling performance. And no one knows this better than dietician Nigel Mitchell. He's worked organizations such as British Cycling and Team Sky to refine their nutrition for cycling strategies.
And now, you can uncover his secrets in this part-guide, part cookbook for cyclists.

The Plant-Based Cyclist, Nigel Mitchell
Whether you eat solely plants, or want to incorporate more plant-based recipes into your diet, then The Plant-Based Cyclist could be for you. 
Nigel Mitchel, who also authored Fueling the Cycling Revolution, now has plant-based recipes—from energy drinks to desserts—for cyclists.

Food for Adventure, Henrik Orre
Henrik Orre, the chef to Team Sky, put together a collection of recipes designed for camp stoves.
It's perfect if you'd rather skip the in-depth explanations of nutrition for cycling and want to take off on your next multi-day adventure.

Velo Chef Book 2, Henrik Orre
Can't get enough from Team Sky's chef?
Then you may enjoy Velo Chef, where Henrik Orre travels to four well-known cycling destinations—Mallorca, Nice, Girona, and Lombardy—to discover and absorb cycling culture and food. And the result of his travels? The recipes contained within these pages. 
CONCLUSION
The best nutrition for cycling is one that works with you, your taste buds, and your lifestyle.
And if you'd like to learn more about nutrition for cyclists, then this quick list will lead the way.
Fuel Your Ride, Molly Hurford and Nanci Guest
The Grand Tour Cookbook, Hannah Grant
Eat Race Win, Hannah Grant, Stacy Sims
The Cycling Chef, Alan Murchison
Fueling the Cycling Revolution, Nigel Mitchell
The Plant-Based Cyclist, Nigel Mitchell
Food for Adventure, Henrik Orre
Velo Chef Book 2, Henrik Orre
---