---
Cycling outside, taking in the fresh air and scenery is why we ride. But sometimes, it isn't easy to fit an outdoor ride when you're busy.
The alternative? Indoor cycling, having your bike on a trainer is a time-saving option when you want to squeeze in a ride.
And here, you'll find the best indoor bike trainers cyclists like you are buying right now.
Scroll through this list to learn more about the best indoor bike trainers and what reviewers loved about it.
Welcome to Sheebes—the site that's here to help you build your mental toughness and pursue new personal records.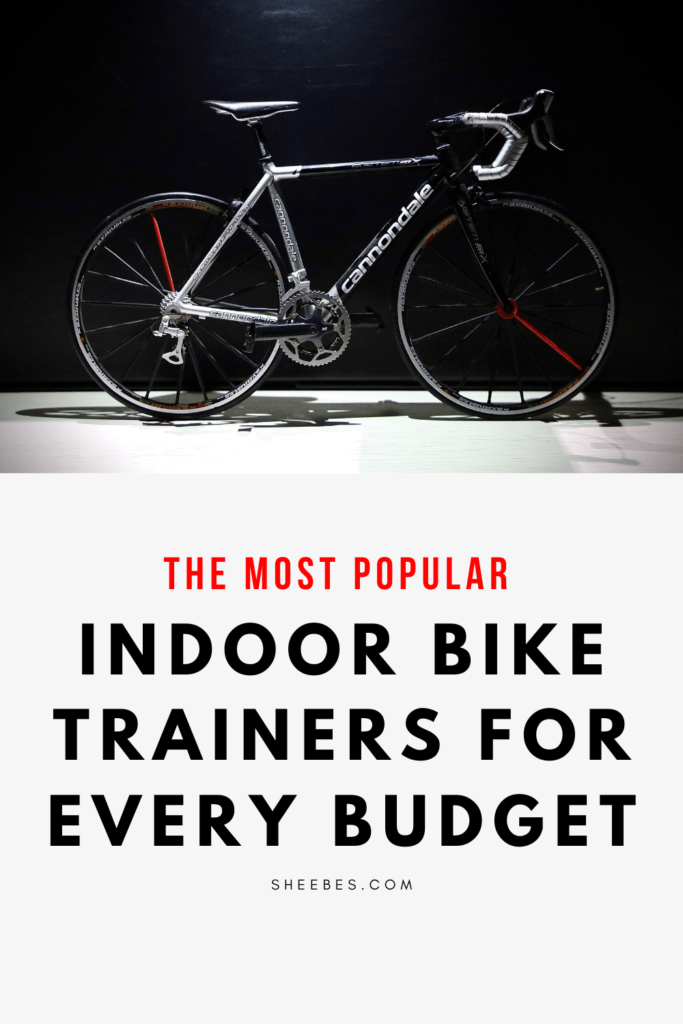 Sheebes is here to give mental toughness tips and resources to help you, the endurance athlete, achieve your personal best. To keep the lights on and content free, we are a participant in the Amazon Services program and other select affiliate networks. This means if you click on an affiliate link below, Sheebes will earn a small commission, at no cost to you.
---
INDOOR CYCLING AT HOME? THESE ARE THE BEST INDOOR BIKE TRAINERS TO BUY NOW

This affordable indoor bike trainer has adjustable feet for stability and a noise reduction wheel. If you want a solid, budget trainer, then this might be the best budget biker trainer to get.

Cyclists liked this trainer for its smooth, road-like feel, easy setup, and sturdiness. This indoor bike trainer's compatible with Zwift and other virtual training apps, so expect to pay a little more for this capability.

If you're looking for a straightforward, no-frills affordable indoor bike trainer, then you might like this budget bike trainer stand for bikes with 26-29 inch wheel.

This indoor cycling trainer mimics real-world bike movement through its side-to-side rocking motion.
This has a wide base for stability but it also means you'll need more space for this indoor bicycle trainer. Pairs well with this Kinetic trainer mat to protect your floors and keep your trainer in place.
---
---

If you want a high-end, truly immersive ride experience indoors, then this indoor cycling trainer is the one to buy.
This version comes without the cassette, but it's foldable, compact, and virtually silent.
This bike trainer is a Zwift compatible trainer and cyclists enjoyed the road feel when paired with Zwift. That's because the changes in course – from steep climbs to riding over bumpy roads – transfers to your bike through the trainer.

This high-end indoor trainer is both quiet and packable. It's also a Zwift compatible trainer and you'll connect to the virtual training app via integrated dual band ANT+FE-C and Bluetooth.
For this trainer, your bike attaches to the unit for integrated speed, cadence, and power data.
Now that you've set up your space, head over to these 8 top tips on boosting your indoor riding motivation before you start pedaling away.
CONCLUSION
There you have it—6 of the best indoor bike trainers cyclists like you are buying right now.
Need a quick rundown? Here's the list.
If you're looking for the best budget bike trainer,
Unisky Fluid Bike Trainer Stand
If want to Zwift or ride virtually on a budget,
CycleOps Fluid2 Indoor Trainer
If you want to mimic riding outside,
Kinetic Fluid Trainer Rock and Roll
If you want a Zwift-compatible smart trainer,
Tacx Neo Smart Direct Driver Trainer
---