You don't have to be a cyclist (though it doesn't hurt) to appreciate a good cycling documentary.
You'll find the best cycling documentaries listed here range from the informative; to the inspirational; and to the wildly dramatic (see current fave: Icarus).
Welcome to Sheebes—the site that's here to help you build your mental toughness and pursue new personal records.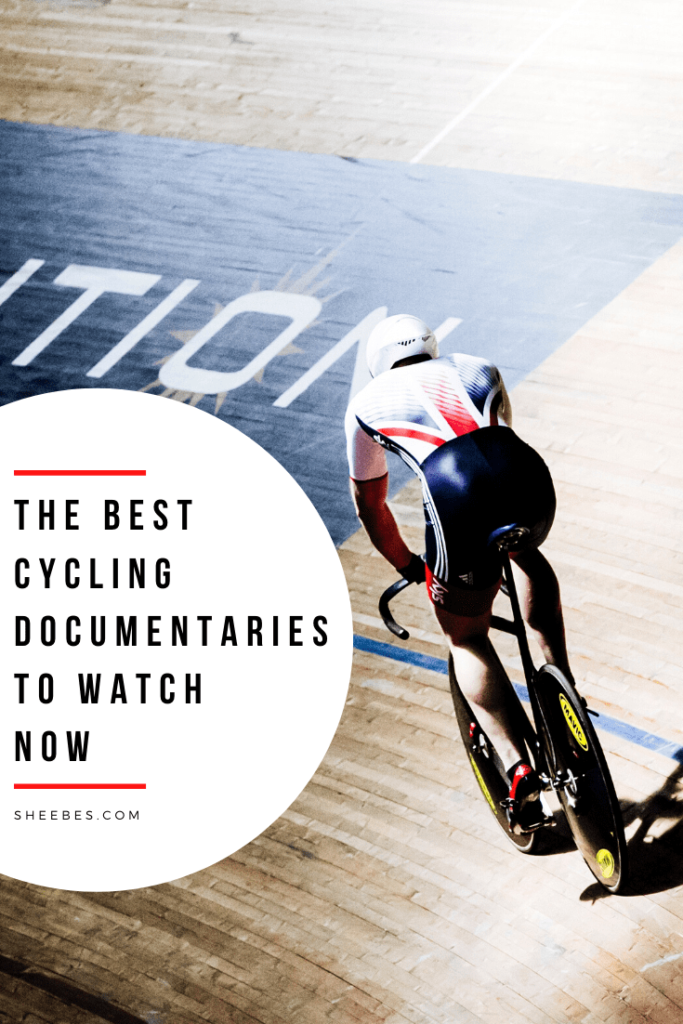 Sheebes is here to give mental toughness tips and resources to help you, the endurance athlete, achieve your personal best. To keep the lights on and content free, we are a participant in the Amazon Services program and other select affiliate networks. This means if you click on an affiliate link below, Sheebes will earn a small commission, at no cost to you.
---
THE BEST CYCLING DOCUMENTARIES TO WATCH NOW

Eat. Race. Win.
Is there anything better than watching a cycling documentary that also covers travel and spectacular food?
The six episodes of Eat. Race. Win. does just that.
You'll watch the Australian cycling team Orica-Scott as they tackle the 2017 Tour de France.
And because all cyclists need to eat nutritious, delicious food, you'll watch the team's chef – Hannah Grant – as she visits local farmers to select the best ingredients to feed the team.
Watch it now: Eat. Race. Win. (Free if you have Amazon Prime)

Half the Road: The Passion, Pitfalls, and Power of Women's Professional Cycling
Have you ever wondered why there are no women in the Tour de France?
If so, you'll want to watch this documentary.
Half the Road, is a thought-provoking film comparing the state of women's cycling to men's.
You'll see interviews with women's cycling World Champions and Olympians who discuss the inequality, lack of media coverage, and shortage of funding.
Yet despite the lack of funding and support, women cyclists pursue their sport for one reason above all else:
The pain is a metaphor for a challenge. It's about bringing yourself to your limit and then pushing yourself beyond that.

And then realizing that it wasn't the limit. And that your limit is further than you ever thought and it's a beautiful thing."

Icarus
If you could take performance enhancing drugs and evade detection, would you do it?
Academy Award winning documentary, Icarus by Bryan Fogel, sought to find out.
Fogel, an avid cyclist, would ride in the Haute Route – an annual amateur 7-day cycling event.
The last time he competed the race, he placed 14th out of 440 riders. This time, his goal was to rank higher.
To do so, Fogel undergoes a supervised doping program to bypass doping controls.
The scientist in charge of Fogel's doping program was the Director of the Olympic lab in Moscow – Grigory Rochenkov.
But the film pivots unexpectedly when the World Anti-Doping Agency (WADA) accuses Russia athletes of state sponsored doping.
Rochenkov, a key figure in Russian athletics, becomes a whistle-blower. And what happens next can only be described as a thrilling scene from a spy novel.
Where to watch it: Netflix

Inspired to Ride
Have you heard of the Trans Am bike race?
It's a cross-country bike race that begins on the United States west coast—in Oregon—and ends on the other coast in Virginia. The total mileage is over 4,000 miles.
The goal is to ride the Trans America trail, from beginning to end, as fast as possible.
The caveat: you'll have to bring all your supplies with you and find your own lodging because you won't have any roadside support.
And sometimes that means sleeping in a ditch because you can't find a place to sleep.
It's open to all who wish to take on this massive challenge.
So why do it?
Find out when you watch the cyclists push through fatigue and battle the elements.

Pantani: The Accidental Death of a Cyclist
This melancholy documentary chronicles the life and death of one of cycling's best climbers – Italian cyclist Marco Pantani.
Pantani, 1998 Winner of the Tour de France and Giro d'Italia, had a successful cycling career cut short by doping allegations.
Though Pantani repeatedly denied the doping claims, he couldn't break free from the accusations. Because of this, he spiraled into a deep depression and addicted to cocaine, which led to his lonely death at 34.

The Road Uphill
The Road Uphill follows two brothers – Andy and Frank Schleck – and their team, Leopard Trek, as they train to ride and win the 2011 Tour de France.
Watch as they build their team and discuss Tour strategies with their coach.
You'll also find insights from the Schlecks and their teammates to questions you might have about pro cycling:
How would you feel if you placed second? Why are you so passionate about cycling? What are you thinking before your time trial? How do you handle the pain?

Slaying the Badger
There's friendly, fierce competition and then there's Greg LeMond and Bernard Hinault.
Slaying the Badger is based off of the book that bears the same name. (In case you wanted to read the book instead of watch the documentary.)
Hinault, nicknamed "The Badger", because he looked and acted like one.
And you'll see how he lives up to his name with his bitter rivalry with LeMond in the 1986 Tour de France.
Though they were on the same team, it appears that it's every man for himself.
---