Nutrition for cycling is crucial to well, not bonking.
A focus on nutrition gives you the energy—physically and mentally—for your entire ride.
You might even ride faster. (In this study, a nutrition strategy helped cyclists complete a faster time trial.)
Nutrition for cycling isn't dieting advice or about losing weight.
The goal here is to give you guidelines to use to continue riding. But while these guidelines are from research, they are no substitute for specific, professional advice. If you need a tailored nutritional strategy, please see a sports nutritionist.
Welcome to Sheebes—the site that's here to help you build your mental toughness and pursue new personal records.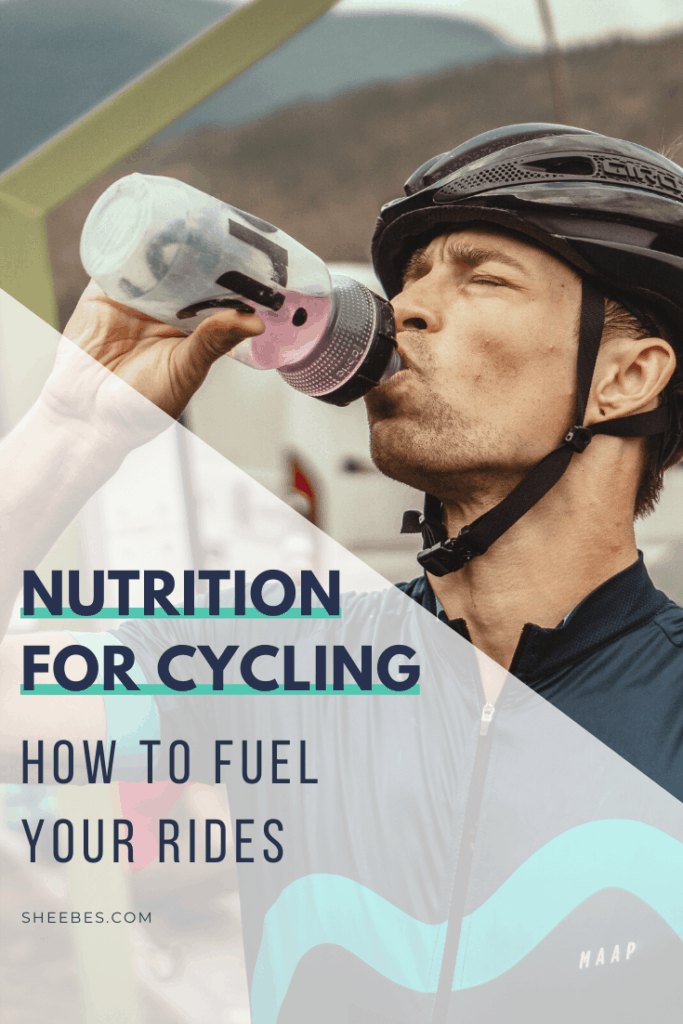 Sheebes is here to give mental toughness tips and resources to help you, the endurance athlete, achieve your personal best. To keep the lights on and content free, we are a participant in the Amazon Services program and other select affiliate networks. This means if you click on an affiliate link below, Sheebes will earn a small commission, at no cost to you.
---
HERE'S WHAT YOU NEED TO KNOW ABOUT NUTRITION FOR CYCLING ENDURANCE
When you eat carbs, your body transforms it into sugar to use as energy.
The more carbs you eat, the more energy you'll have. And that's especially important as a cyclist.
Good things happen on rides when you eat carbs. Things like delayed fatigue and performance improvements (of roughly 2%—3%).
Let's look at what the research says about nutrition for cycling endurance.
NUTRITION BEFORE CYCLING
What to eat for rides less than 90 minutes
Consume 7—12 g of carb/ kg of body weight 24 hours before a ride.
That's 567g—972g of carbs for a 180-pound (81 kg) person.
The day before your ride of less than 90-minutes could look like this.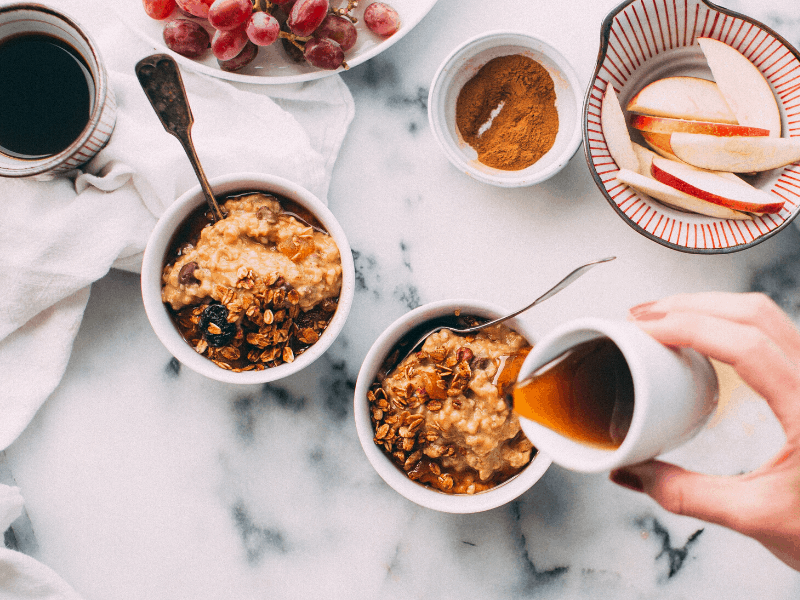 Breakfast (139g carbs)
Oatmeal with maple syrup, topped with dried cherries, and nuts; banana; smoothie
1 cup oatmeal = 27g carbs
2 tbsp maple syrup = 26g carbs
2 tbsp dried cherries = 16g carbs
1 oz chopped nuts = 6g carbs
Banana = 27g carbs
Smoothie = 37g carbs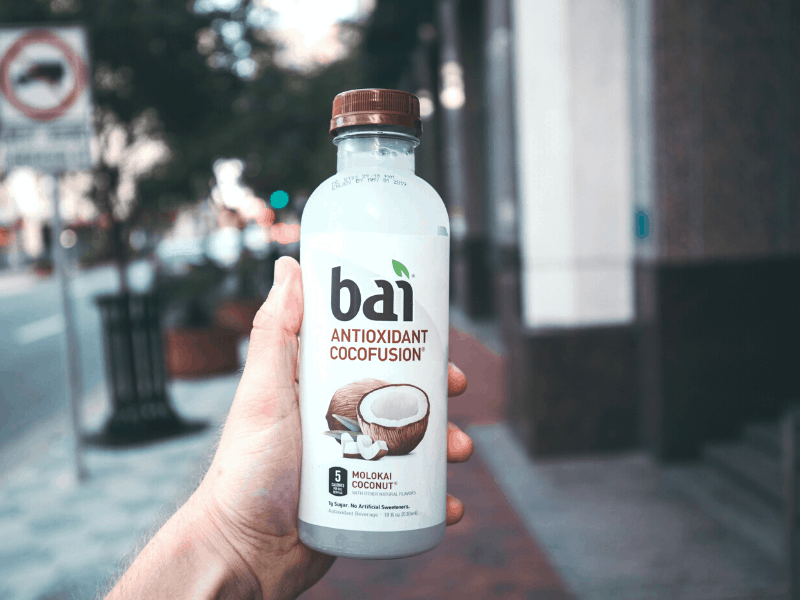 Mid-Morning Snack (47g carbs)
1 cup coconut water = 9g carbs
2 fig bars = 38g carbs
Lunch (151.5g carbs)
Grain bowl with quinoa, mixed veggies, pumpkin seeds, roasted salmon, avocado; apple; fruit juice
1 1/2 cups quinoa = 59g carbs
1 cup mixed greens = 1.5g carbs
1 oz pumpkin seeds = 15g carbs
Salmon = 0g carbs
1/2 cup sliced avocado = 6g carbs
1 medium apple = 25g carbs
12 oz fruit juice = 45g carbs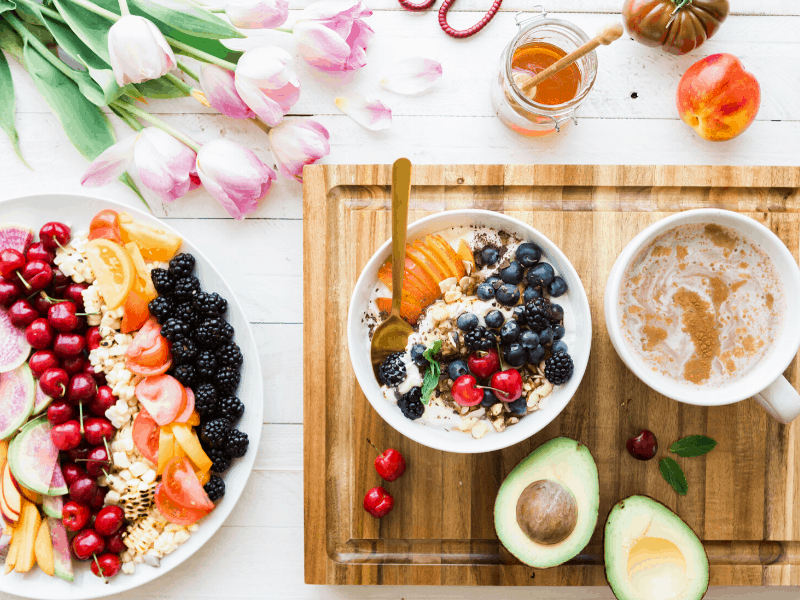 Afternoon snack (53g carbs)
Yogurt with muesli and fresh blueberries; dark chocolate peanut butter cup
1 cup yogurt = 6g carbs
1/3 cup muesli = 21g carbs
1/4 cup fresh blueberries = 5g carbs
3 peanut butter cups = 21g carbs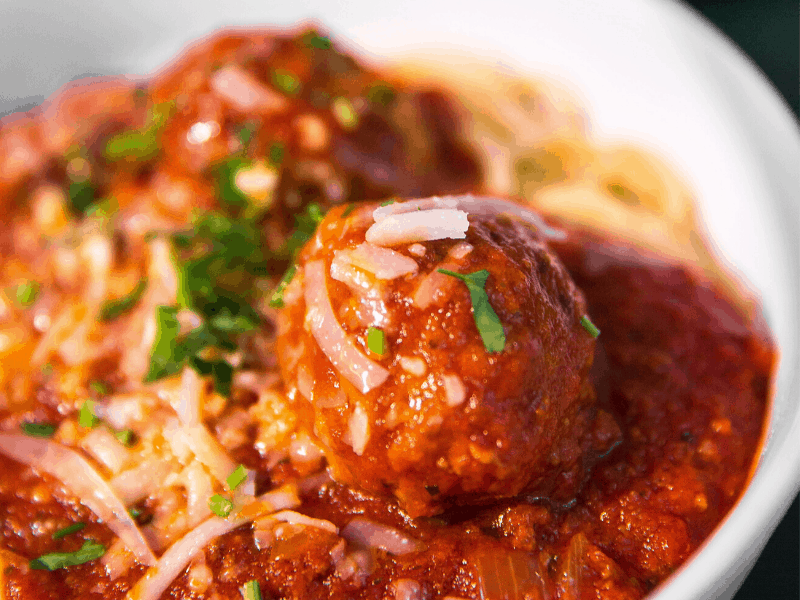 Dinner (123g carbs)
Orecchiette with chicken meatballs (recipe here)
1 1/2 cup cooked orecchiette = 123g carbs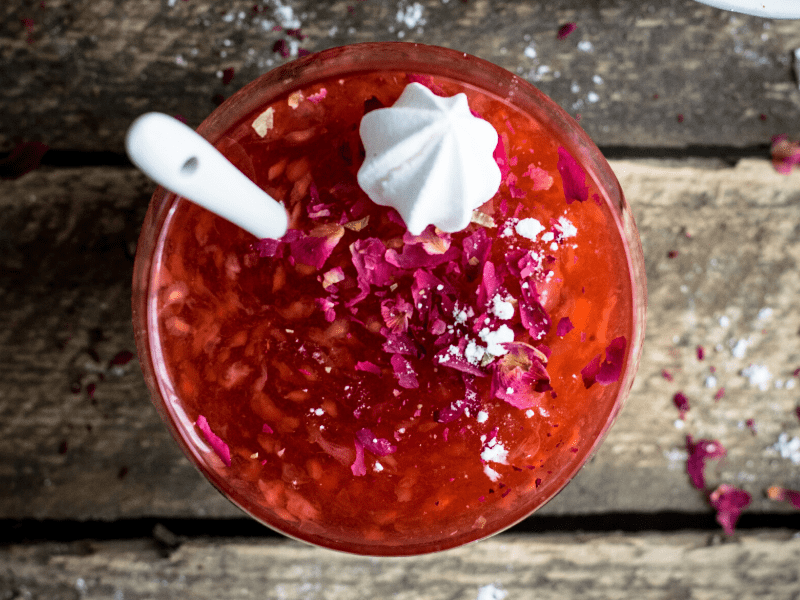 Post-dinner snack (68g carbs)
Rye bread with peanut butter and jam
2 slices rye bread = 32g carbs
2 tablespoon peanut butter = 8g carbs
2 tablespoons jam = 28g carbs
TOTAL CARBS FOR THE DAY = 581g carbs
NUTRITION WHILE CYCLING
What to eat for rides over 90 minutes
Consume 10—12 g of carbs per kg of body weight per day 36—48 hours before a ride.
That's 810g—972g of carbs for a 180-pound (81 kg) person.
You could increase the serving size of high carb items—oatmeal, muesli, pasta.
Or, you could consume more dried fruits, pretzels, cereal, popcorn, or sweet potatoes.
Or, you could drink juice or smoothies if you're tired of eating.
Whatever works for you and your lifestyle, do that with a focus on carbs.
NUTRITION FOR CYCLING LONG DISTANCE
If your ride is 2—3 hours you'll need…
60 g of carbs per hour.
Popular options are:
Bananas
Peanut butter and jelly sandwich
Fig bars
If your ride's more than 2.5 hours you'll need…
90 g of carbs per hour.
Popular options are:
Homemade granola bars
Dried fruit
If you're curious about the best nutrition bars for cycling…
Then give these a try:
WHAT TO EAT AFTER A RIDE
Carbs and protein help your muscles repair. (And so does recovery after a ride.)
But what you eat and drink post-ride depends on two things: the ride you did today and the ride you'll do next.
Easy ride + no ride tomorrow…
It's unlikely you'll need specific recovery nutrition because you didn't tax your muscles nor used your carb stores.
Medium-hard ride + medium-hard ride tomorrow…
Eat a higher number of carbs.
Hard ride + hard ride in less than 8 hours…
Eat 1.0—1.2 g carbs/kg/ hour for the first 4 hours. Then, eat as normal.
CONCLUSION
Nutrition for cycling is about fueling your body to sustain your performance and energy when you're on a ride.
Though we've gone over what you could eat pre-ride, during your ride, and post-ride, it's no substitute for specific individual advice.
If you need specific individual advice, see a qualified professional.
Want to eat like Tour de France pros? Then you might like this book, from the chef who created performance-based recipes to fuel a professional cycling team. Also featured in the documentary Eat, Race, Win.
If you want to stay on topic, then you might like this—Nutrition for Cyclists: The best cookbooks from team chefs.
---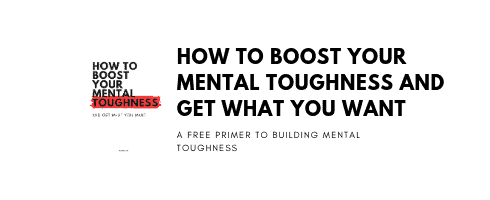 Sources
Role of nutrition in performance enhancement and postexercise recovery