There's a lot to like about indoor cycling—you get to build your fitness, workout on your own time, and stay safe at home.
And if you're looking for an indoor cycling for beginners guide, then you've come to the right place.
By the end of this post, you'll walk away with tips that will help you find:
The best indoor cycling goals for you
Indoor cycling training plans to help you get started
The indoor cycling gear that'll boost your comfort when you're cycling inside
Beginner cycling training apps that can help you progress in your fitness
Let's get started with indoor cycling for beginners.
Welcome to Sheebes—the site that's here to help you build your mental toughness and pursue new personal records.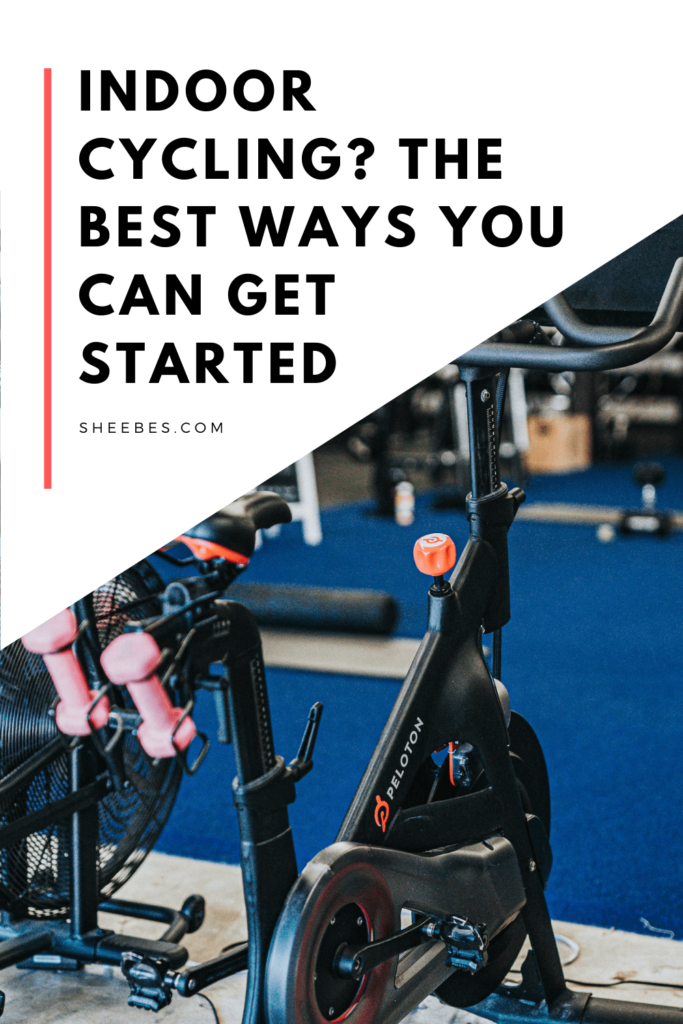 Sheebes is here to give mental toughness tips and resources to help you, the endurance athlete, achieve your personal best. To keep the lights on and content free, we are a participant in the Amazon Services program and other select affiliate networks. This means if you click on an affiliate link below, Sheebes will earn a small commission, at no cost to you.
---
THE BENEFITS OF INDOOR CYCLING YOU NEED TO KNOW 1
Did you know that indoor cycling can boost your happiness?
The good news is, it doesn't take much time to reap the benefits of indoor cycling. (Curious as to why bike riding is so good for you? These are the 7 top bike riding benefits you need to know.)
Research shows that happiness levels were the same whether people exercised for 150 minutes (2.5 hours), 300 minutes (5 hours) minutes, or more than 300 minutes (5 hours) a week.
Don't have much time but want all the endorphins from your indoor cycling workout? Aim for at least 2.5 hours a week. A small change can make a big difference in happiness.

Don't have much time but want all the endorphins from your indoor cycling workout? Aim for at least 2.5 hours a week.

Wondering how you can find 2.5 hours a week to do some indoor cycling? You'll find tips and tricks on how to squeeze in a ride here.
While indoor cycling can help support your mental health, it alone won't completely erase depression, anxiety, or stress. It's most effective when it's used with professional treatment.
SET YOUR INDOOR CYCLING GOAL
Your indoor cycling goal can help you structure your workouts, set a routine, improve your cycling fitness, and boost your indoor cycling motivation.
Got an idea of a cycling goal you'd like to achieve? If you don't, then these goals may inspire you.
You could:
Ride for 20 minutes, 3 times a week
Train for a couch to 30 miles in 8 weeks
Cycle for an average of 25 miles a week
Strengthen your core and legs with twice a week strength sessions
With cycling goals, it's a good idea to:
Find the best time to ride for you, your lifestyle, and preferences so you can create a routine that works for you.
Pace yourself with indoor cycling. Lengthy workouts are great, but so are shorter sessions.
Recognize your achievements, such as the time when you showed up to do a 15-minute ride, or when you completed a 25-mile week.

THE INDOOR CYCLING GEAR YOU NEED TO HAVE
Indoor cycling space. Some cyclists like to have a dedicated room for indoor cycling, but that's not a requirement.
But, you will need to carve out a small area to place your bike and trainer for indoor cycling.
One thing to keep in mind—some trainers can be noisy, so you may want to separate your bike space to minimize noise.
Bike trainer. If you already have a road bike, then an indoor bike trainer can be a solid option.
And you'll find a few types of bike trainers to choose from—turbo trainer, smart trainer, and rollers.
Floor mat. You'll sweat more inside and a wide floor mat (like this floor mat) placed under your bike will help protect your floors and keep your trainer from shifting.
Indoor cycling fan. One of the most useful and important pieces of indoor cycling gear is a fan.

As you cycle inside (with no wind), you produce extra heat, which causes your body temperature to rise.

When your temperature rises, it can affect the amount of power you produce because your body spends extra energy to cool you down. 2
The best fan for indoor cycling doesn't have to be expensive. A simple fan will do, but you might want to place a few small fans around you for the biggest cooling effect.
The best fans for indoor cycling:
Honeywell TurboForce Fan, an affordable option that's good if you need a few to place around you.
Lasko Oscillating Tower Fan, for maximum convenience, because it's quiet (so you can hear through your headphones) and has a remote-controlled option (so you don't have to get off the bike).
Wahoo KICKR HEADWIND fan, a smart fan that when paired with your heart rate monitor or smart trainer, speeds up (when your heart rate or speed increases) to cool you down.
Padded bike shorts. Bike shorts, made with wicking fabric, provide cushioning in the groin area to relieve pressure and make cycling more comfortable.

And if you plan on riding regularly (or noticed that you're highly uncomfortable while cycling), a pair of padded bike shorts can help, making it much more enjoyable to ride.
Bike shorts come in many lengths and cuts but look for ones that don't squeeze your waist (this women's bike short, from size-inclusive brand Machines for Freedom, or these men's bike shorts), especially when you're hunched over on your bike. 
Quick note: Wear bike shorts without underwear, to reduce chafing.
Cycling shoes. Cycling shoes, with a stiff sole to secure your feet to the pedal, makes it easier for you to pedal efficiently and generate more power.

Cycling shoes and pedals work together as a system, to click and lock into place.

You might want to check out this men's Shimano cycling shoe or this women's Shimano cycling shoe.
THE INDOOR CYCLING TRAINING PLANS TO KEEP YOU MOTIVATED
Indoor cycling training plans can help you improve your endurance and fitness with structured workouts and progressive workouts.
But remember, cycling plans are only guidelines.

What might work for one person might not work for another. And sleep, nutrition, stress can all affect how you perform in any given workout.
Always change and adjust your indoor cycling plans based on your needs and how you're feeling that day.
Below, you'll find a list of the best resources for beginner cycling training plans.
THE BEST BEGINNER INDOOR CYCLING TRAINING PLANS FOR BEGINNERS
These plans can be used both as an indoor bike trainer workout for beginners or as an outdoor training plan.
Beginner's Training Plan: From 0 – 30 miles in 14 weeks, Total Women's Cycling
The end goal of this plan's to get you to complete a 30 mile event in 12 weeks. But a 30-mile event doesn't have to be the end goal with this beginner cycling training plan.
Training Plans for Cyclists, Gale Bernhardt
Build your fitness with two plans in this book: Level 1, a 12-week plan; and Level 2, an 18-week plan.
Beginner Cycling Training Plan, Cycling Weekly
This beginner cycling training plan uses training zones to guide your training and you'll find more information on this training plan here.
Endurance Cycling Training Plan, Cycling Weekly
This plan also uses training zones to guide your training and you'll find more information on this training plan here.
THE BEST BEGINNER INDOOR CYCLING TRAINING APPS THAT'LL HELP YOU MAKE THE MOST OUT OF YOUR WORKOUTS
You can stream indoor cycling workouts for about $10 a month with upbeat workouts that range from 20 to 60 minutes.
You don't have to own a Peloton bike to use the Peloton app, you'll find a wide variety of indoor bike trainer workouts for beginners here.

Without the bike, you won't see a leaderboard or your workout details, but you can choose to participate in beginner cycling classes set to a variety of music genres.
The Peloton Digital Membership will cost you $12.99 a month plus tax.
CONCLUSION
There you have it, the beginner indoor cycling plans, cycling training apps, and indoor cycling gear that'll help you get started, build your fitness, boost your mood, and reduce stress.
Want even more resources? Head on over here to find out more about how to keep your indoor cycling motivation high.
---