Running your first 5k is a running milestone.
It takes both grit and guts to sign up for your first 5k.
You've stuck to a training plan, fought through a lack of running motivation, and much more.
You've already accomplished so much before race day.
Now that the hard work's done, what can you expect on race day?
Here, you'll learn what to do and expect—so everything goes well—when running your first 5k.
Welcome to Sheebes—the site that's here to help you build your mental toughness and pursue new personal records.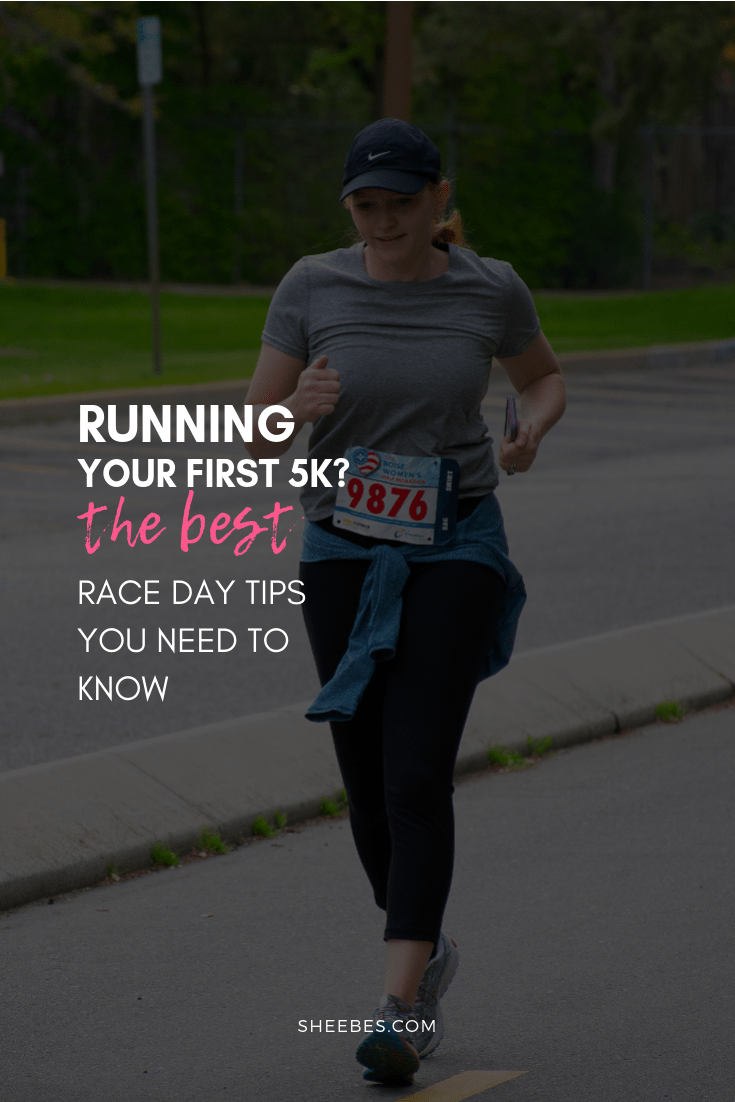 Sheebes is here to give mental toughness tips and resources to help you, the endurance athlete, achieve your personal best. To keep the lights on and content free, we are a participant in the Amazon Services program and other select affiliate networks. This means if you click on an affiliate link below, Sheebes will earn a small commission, at no cost to you.
---
RACE DAY TIPS FOR RUNNING YOUR FIRST 5K


GET YOUR RACE DAY PACKET
You must pick up your packet at a specified location (your race will have details).
In this packet, you'll receive your bib, timing chip, and other race day goodies.
DON'T FORGET! Grab extra safety pins to pin onto your race day shirt or shorts. It never hurts to have extra pins.

FIND OLD CLOTHES TO KEEP YOU WARM BEFORE THE RACE
If the weather's expected to be cold, then you'll want to find some warm "throw away clothes".
These clothes will keep you warm until you've warmed up enough to take it off and throw aside.
This usually happens near the start and you'll find discarded warm-up gear tossed off to the side, away from the path of other runners. These old clothes are donated to charity.
If rain is in the forecast, grab a trash bag to wear over your running clothes to stay dry. Or, try a disposable rain poncho or a reusable lightweight packable poncho.

LAY OUT YOUR RACE DAY OUTFIT
Get race-ready by laying out your race day outfit.
Doing this helps keep your gear organized and prevents any last-minute scramble out the door.
Remember, race day gear should be an outfit you've worn before and felt comfortable running in it. There's nothing worse than having a brand new shirt that chafes in all the wrong places.
In your layout, you might want to consider:
Throw away warm-up clothes
Rain poncho (You might also want to check out the rain gear this post: Running in the rain? Smart strategies for rainy day runs.)
Running hat
Sunglasses
Hair ties (plus extras if they break)
Sports bra
Heart rate monitor (if you use it)
Shirt (with race number pinned)
Running jacket
Fuel belt or water bottle
Watch
Gloves
Arm warmers
Running bottom
Socks
Shoes (with timing chip attached)

REVIEW YOUR RUNNING MANTRAS
The words you repeat to yourself have an enormous impact on how you feel on race day. Your words can power you through another mile and help you dig deeper.
Because you know you can do this—you just have to silence your inner critic.
So, it's helpful to line up a few running mantras that'll help create the vibes you want to feel before and during your race.


DO YOUR USUAL PRE-RUN MORNING ROUTINE
Eat your usual* breakfast and go through your normal pre-run routine. But if you can't consume breakfast, that's totally normal too.
*(Or risk multiple bathroom breaks at the most inopportune time.)
Then, you'll want to plan to arrive at your race about an hour or so early. ⏰ Because those porta potty lines can be exceedingly long.

THE RACE START LINE
If your race didn't assign a corral number, then finding the right spot to stand prior to the race start can be a little tricky.
Generally, start lines for races are grouped by time.
Runners gunning for a personal record (PR) start in the front and those walking a 5k will tend to gather toward the back.
But, don't get too hung up on your times here. You're running your first 5k and the goal is to finish and check it off your list.
Instead, as you're waiting your turn to cross the start line, do some deep breathing exercises, visualize your race, and remember your running mantras.
Soak in this moment – this is what you've trained for, you're healthy and ready to tackle running your first 5k.

WHAT TO DO IN THE FIRST MILE
Don't get caught up by runners speeding past you and try to keep up.
This is your race, so stick to your pace even if you're walking. It's absolutely ok to walk.
Remember this mantra: your race, your pace.

THE FINISH LINE 🎉
You've conquered not only this distance, but the weeks of training leading up to this race.
After you've celebrated your win finishing a 5k is a win), consume a recovery drink such as this one, then take a moment to jot down two things about your race:
The things that went well

The things that could've been better
Then, use those reflections to plan your next running goals. Need more ideas on running goals? You'll find more ideas here 👉🏼 New Runner? The Best Running Goals for Beginners You Need to Know
Or, if you've caught the racing bug, find the best running races near you with the resources listed in this post.
CONCLUSION
✅ Get your race day packet
✅ Find clothes that'll keep you warm (and you don't mind donating) before your race begins
✅ Organize your race day gear
✅ Get your running mantras ready
✅ Eat your usual breakfast (but if you can't, it's ok)
✅ Arrive early
✅ Breathe
✅ Stick to your pace
✅ Celebrate
✅ Determine your next running goals (maybe a faster 5k?)
---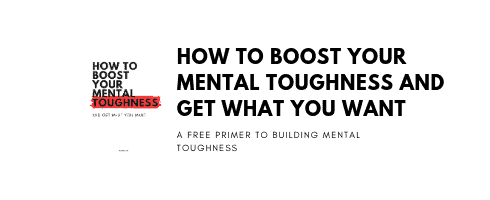 ---