Improving your cycling performance requires you to suffer a little.
If you want to create a consistent habit, finish a long ride, or pursue any cycling goal, you must learn to tolerate both fatigue and discomfort. And that requires some training—physically and mentally—outside your comfort zone to build and improve your cycling fitness.
And just as you train to improve your cycling performance, you too can train to improve your mind—your mental toughness—for cycling.
Developing your mental toughness can help you stay consistent, controlled, determined, and focused. 1
And here, you'll learn 4 top ways you can build your mental toughness for cycling.
Welcome to Sheebes—the site that's here to help you build your mental toughness and pursue new personal records.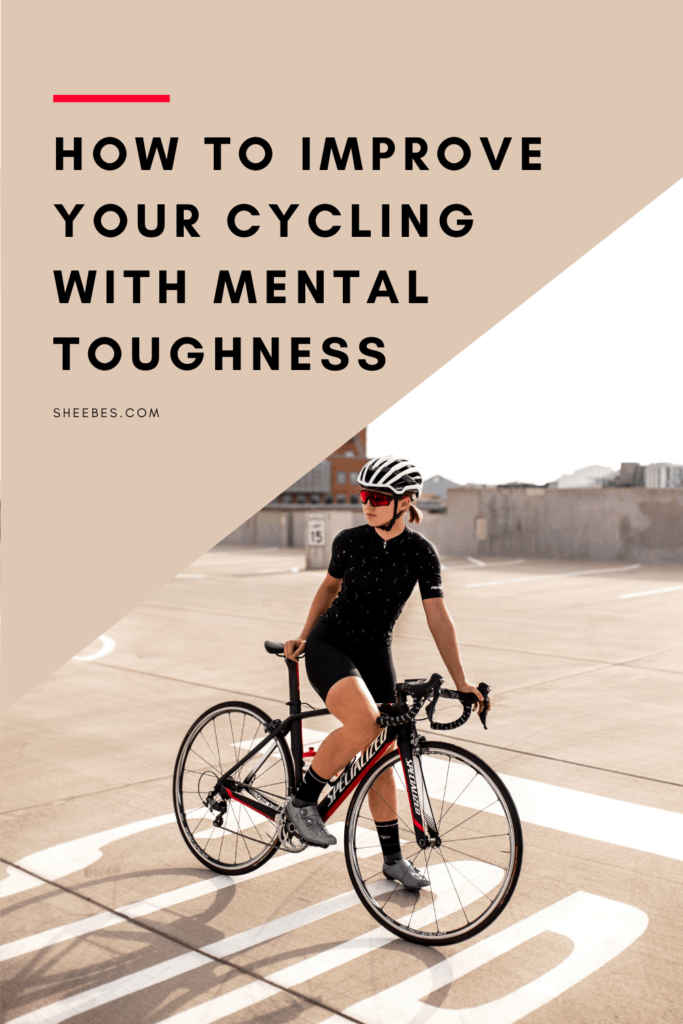 Sheebes is here to give mental toughness tips and resources to help you, the endurance athlete, achieve your personal best. To keep the lights on and content free, we are a participant in the Amazon Services program and other select affiliate networks. This means if you click on an affiliate link below, Sheebes will earn a small commission, at no cost to you.
---
HOW TO BUILD MENTAL TOUGHNESS FOR CYCLING

Build confidence in your cycling skills
Confidence, a key trait of mental toughness, stems from your ability.

Confidence is a wonderful thing to have, but if you find yourself overcome with fear, self-doubt, or uncertainty, then let your behavior drive your beliefs.
Play as if you're at your best.
Work as if you're on top of your game.
Talk to that person as if you're feeling confident.
You can use bold actions to trigger a bold mindset. – James Clear

Your behavior—such as your cycling skills—raises your confidence and builds mental strength.
Master one skill at a time to boost your confidence and mental strength.
And if you need more information on training, you'll find the best cycling training books here.
Or, hone your cycling skills with these books.
And for even more information, these posts may help.
If you're training hard and cycling solo, you may also want to read this post about staying safe while cycling alone.

Stick with it
You've probably heard that consistency is the key to improvement, whether it's in your personal or professional life.
And it's the same with cycling—your ability to stick with it, staying consistent—will help you improve your performance and mental toughness.
It's not always easy to stay consistent when life's jam-packed with activities, but you'll find a few tips here that can encourage you to do so.
Before you set any cycling goal, take a moment to answer three questions to give you clarity on your cycling goal.
What were your proudest moments?
What did you learn?
How do you want to crush these next few months?
Then, identify your cycling goal and why it's important for you to reach it.
If you're new to cycling, then you might like this post on the best cycling goals for beginners. And whether you're a new cyclist or a veteran, then this is a must-read tip on how to set a cycling goal that's challenging yet achievable.
Remember, consistency isn't an all-or-nothing pursuit.
You might miss a few days, or things might not go according to plan, and that's fine—the key is to get back to it when you can. You might even want to plan for busy days or when you're low on cycling motivation.

Start a personal 'Kudos' file
Mental toughness calls for both determination and focus, which you can strengthen with a 'Kudos' file.
A 'Kudos' file is your own personal file where you keep a list of your cycling achievements, progress, and accomplishments. (Think Strava, where you give 'Kudos' to other athletes, but you're giving 'Kudos' to yourself.)
It could be a workout streak, or an interval session you conquered—anything you're proud of goes into this file.
Do this often so you have a well of 'Kudos' to draw from when you believe you aren't making progress, need a dose of motivation, or need to refocus.
Review your 'Kudos' file often for a boost of motivation.

Prevent burnout with active recovery or rest days
You might find it easier to push yourself to the limits than it is to take a break.
Rest and recovery mean giving yourself permission to recover and require a great deal of mental toughness.
It's tough to pull back.
But without enough recovery sprinkled into your training plan, you'll find yourself either underperforming, on the edge of burnout, or on the cusp of overtraining.
Allow your body time to absorb and adapt to your training because that's when you'll become a stronger cyclist.
Want a mental break but don't want to stray too far off cycling? You might like these lists of cycling documentaries; mental toughness books; cycling books; and cycling audiobooks.
Conclusion
There you have it—4 ways you can build your cycling mental toughness to help you improve your cycling performance.
But these tips are just a start, and if you'd like to dive deeper into mental toughness, these books can lead the way.
Thinking Body, Dancing Mind, Chungliang Al Huang
The Champion's Mind: How Great Athletes Think, Train, and Thrive, Jim Afremow
---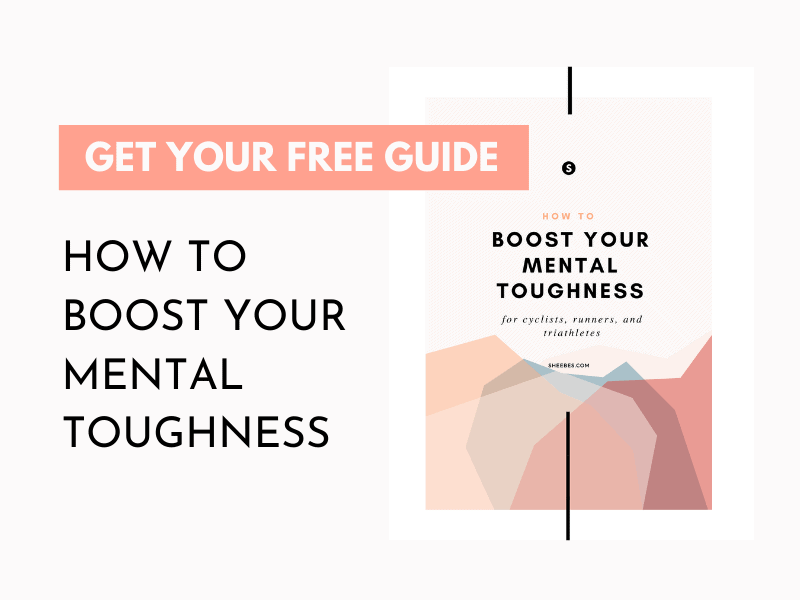 ---
Sources