Do you want to learn how to run faster?
You're not alone—learning how to run faster is an enticing goal for runners of all levels.
But how do you go about running faster? What's the best way to reach your time goal?
If these questions have been on your mind—whether you want to shave minutes off your 5K time, increase your speed for the 10K, or improve your marathon time—then this post will help.
By the end of this post, you'll walk away with 8 tips on how to run faster and shave minutes off your race times. (Hello, new personal record!)
Let's dive in.
Welcome to Sheebes—the site that's here to help you build your mental toughness and pursue new personal records.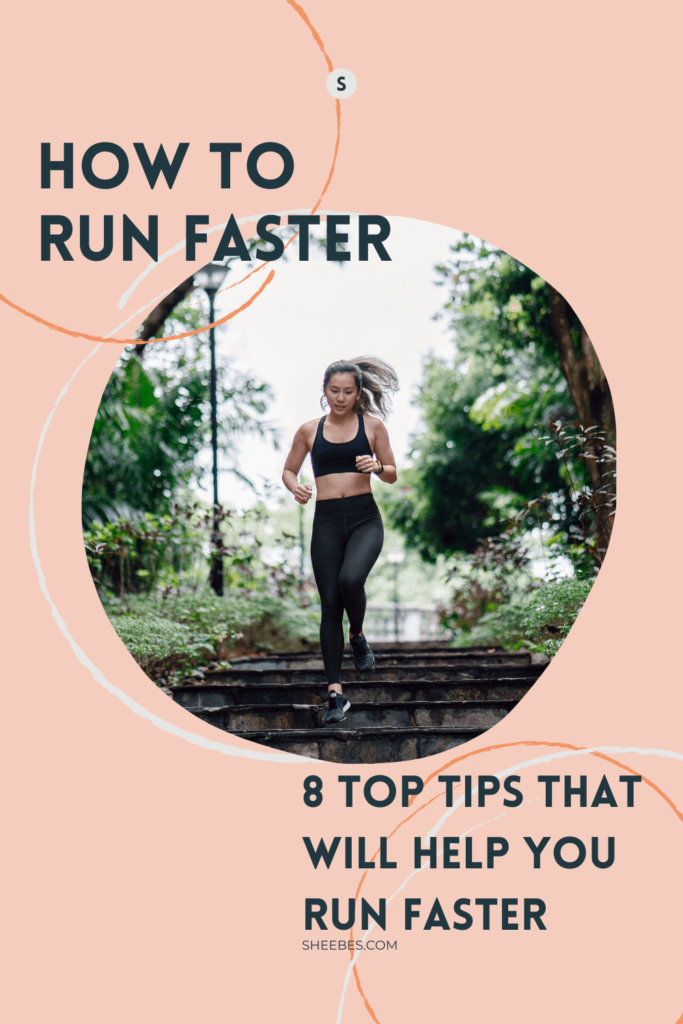 Sheebes is here to give mental toughness tips and resources to help you, the endurance athlete, achieve your personal best. To keep the lights on and content free, we are a participant in the Amazon Services program and other select affiliate networks. This means if you click on an affiliate link below, Sheebes will earn a small commission, at no cost to you.
---
8 top tips on how you can run faster
Before we get started, remember, every runner is different.
You have paces, strengths and goals that are different from others. What you may think as 'slow' may be 'fast' to another—it's all relative.
Speed looks different on every runner.
Wherever you are in your running career, one thing's for certain: If you keep at it, you can improve your race times.

Build your base mileage
Before you jump straight into speedwork, you need a base level of running fitness to build strength in your musculoskeletal system—your bones, ligaments, tendons, and muscles.
You need a base level of running fitness to build strength in your musculoskeletal system—your bones, ligaments, tendons, and muscles.
You need this strength because running fast places more force on your system, and your bones, ligaments, tendons, and muscles need to be strong enough to absorb this force.
Without a solid running base, you'll place yourself at a much higher risk for a running injury.
An injured runner is a runner that isn't getting faster.
So what should your running mileage base be?
There's no 'right' answer because the ideal number of miles means finding your own sweet spot—the spot where you're running faster, without injury or overtraining.
To help you find your ideal base mileage, consider these 3 questions: Whats your running goal? What's your schedule? Are you injury prone?
1 // What's your running goal? Do you want to run shorter distances, such as a 5K or 10K or longer ones such as a half-marathon or marathon?
If you're running a 5K or 10K, consider a minimum mileage of roughly 20-20 miles a week.
If you're running a half-marathon or marathon, consider a minimum mileage of roughly 35-40 miles a week.
2// What's your schedule? How much time can you spend running every week?
3// Are you injury prone? If you are, you may have to adjust the number of miles you run in a week.

If you want to run faster, run easy
To learn how to run faster, you need to run slow and easy most of the time.
It's hard to do because we want to finish a run as quickly and efficiently as possible, which means running faster than we should.
But you can run faster by running easy because it:
Builds your muscle endurance
Decreases your injury risk
Makes it more enjoyable to run because you're not straining to run
Boosts your mental toughness because long runs push you to stay focused longer
And helps you tap into more speed on fast running days because you never get too tired from a previous easy run
The next time you're running, challenge yourself to run very slowly—one that feels as if you could run forever. You're building a foundation of endurance here, not speed. Save your speed for tomorrow.
Your slow runs may be much slower than you're used to (and it may be hard to accept) but remember: to run faster, keep your easy runs easy, and your hard runs hard.

Run consistently
There are no quick, instant results with running.
But the good news is, you can be a faster runner if you run consistently over time.
Your body must adapt to running gradually, and running regularly helps you do this.
Running consistently, together with building your base mileage, will build strength in your bones, ligaments, tendons, and muscles so you can do the speedwork that will make you a faster runner.
Without a regular running habit, you'll languish in an endless loop of gaining and losing running fitness.
Maintain your fitness with consistent running so that you can work in speedwork safely and increase your running speed.
Running progress comes from running consistently.

Sprinkle in speedwork
A little bit of speedwork goes a long way—once or twice a week, sandwiched between easy running days—is more than enough for most runners.
Speed workouts, such as fartleks, tempo runs, intervals, and hills, can help you become a faster runner.
Fartlek (it's Swedish for speedplay). It's unstructured speedwork if you're not into specific distances or times.
You can run fartleks anywhere, at any time—on a track, trail, or sidewalk. For example, you might sprint for 20 seconds whenever you see a red car.
Tempo run. A relatively hard run, at a pace that you can hold for about 20 to 30 minutes.
A tempo run improves your body's ability to clear blood lactate and teaches you to hold a demanding pace for an extended time.
Intervals. Hard running segments followed by recovery to help you boost your aerobic power.
Hills. Running hills strengthens your running muscles and promotes power and efficiency.
Speedwork also trains your mind—holding efforts that are uncomfortable and holding off the urge to stop. But you can build your mental toughness for speedwork.
Grab your freebie now.


Do a strength training program with plyometric exercises 1
Strength training supports fast running by reinforcing your strength, and also helps you move in other directions—sideways (side steps) and rotationally (swinging a bat).
These moves are especially important if you intend to run on trails where you'll likely side step rocks and roots.
After you've built overall running strength, consider doing explosive strength training, otherwise known as plyometric exercises.
Plyometric exercises, such as body weight jumping, can boost your explosive strength, running endurance, and your running speed.

Press into the discomfort
Running fast is uncomfortable—your legs will burn, and your lungs will feel like they're on fire—and this will make you want to stop.
(If you're experiencing sharp pain, then you should stop and see a doctor.)
You can change how hard you think you're working with a few mental strategies that will help you manage discomfort and ultimately, run faster.
To help you manage discomfort and run faster:
Use a running mantra. Running hills? A mantra such as 'up and over' might make hills seem easier.
Focus on one interval at a time. Interval run? Let's say that you have 10 x 400-meter intervals to do today.
If you've never done this before, then these intervals may be intimidating.
But remember, physically, you can only run one interval at a time, so don't let your mind get ahead of you.
Focus on completing this interval, this minute, this lap.
Expect the burn. Your brain will slow you down to keep you safe from physical harm.
But running fast means pushing against the walls of your comfort zone and overriding your brain's natural instinct to slow down.
To do this, expect that your run will hurt because this sets an expectation for your run.
You're telling your mind ahead of time that it is supposed to burn and it is ok.

Eat a pre-run snack
Got a speedwork session? Then you've got to eat a pre-run snack for energy and for a boost in performance. 2
What exactly to eat depends on your food preferences, but the main question should be: Does eating this pre-run snack make me feel good?
Your pre-run snack should be easy to digest carbohydrates because carbs convert into glucose (a sugar) that your body uses as energy to run.
The glucose that's not used right away gets stored in your muscles as glycogen to use later.
The best pre-run snacks to try if you want to throw something together:
The best pre-run snacks to try if you want a grab and go snack:

Take a day off
No runner can run forever without taking a day off.
A day off—a rest day—is good for you both physically and mentally. Rest days can help you recharge, rebuild your muscles, and reignite your motivation.
Rest days can help you run faster.
To make the most of your rest day,
Eat your carbs to refuel your muscles. 3
Eat high-quality protein to repair and repair muscle tissue. 4
Drink cherry juice to speed your recovery. The anthocyanins in Montmorency cherries have anti-inflammatory and antioxidative properties that can reduce inflammation and oxidative stress and help the muscles recover.
Get sleep. We've all heard it before—sleep is vital—and it's even more so if you're a runner looking to get faster.
Without sleep, you'll be slower than usual 5 6 and have less motivation.
Though getting more sleep is easier said than done, try for at least 7 hours to reap the benefits of more energy and speed.
---
Sources