Whether you've just gotten started with cycling or you're returning to cycling and need a refresher on cycling alone tips, then the cycling advice here can help you:
Learn how to cycle alone
Find the gear you'll need to ride safely by yourself
And at the end of this post, you'll find two app recommendations you don't want to miss. These apps will let your loved ones track your location and will send an alert if you've stopped moving for a few minutes.
Let's get started.
Welcome to Sheebes, the site that's here to help you become your own best coach.
Whether you're a runner looking for running tips or a cyclist searching for cycling advice, Sheebes is here to support your growth as an athlete.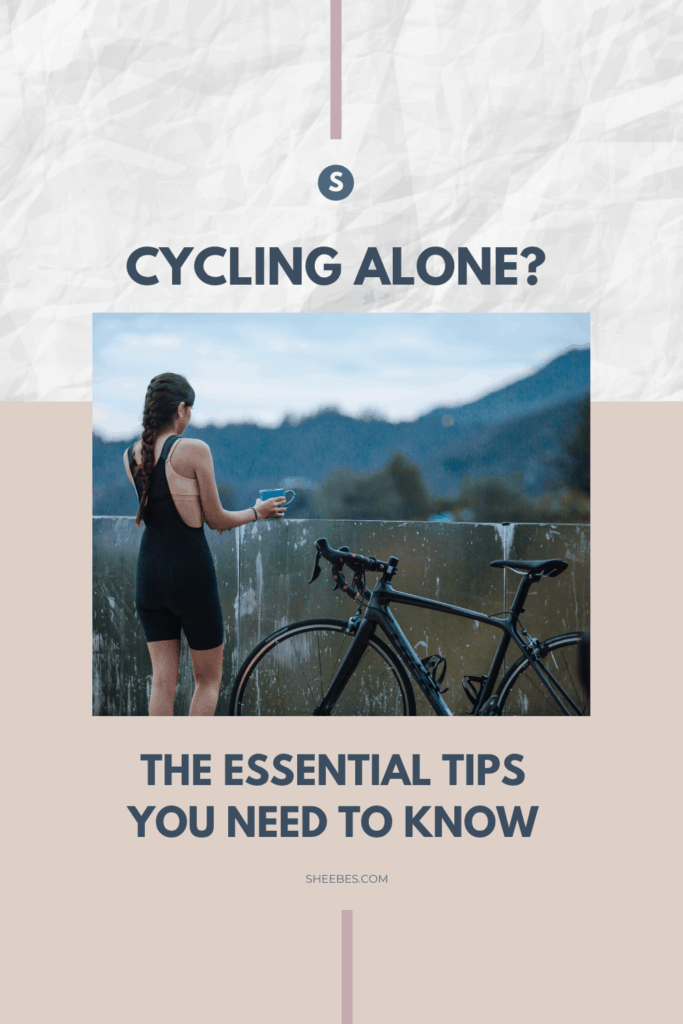 Sheebes is here to help you grow as an athlete. To keep the lights on and content free, we are a participant in the Amazon Services program and other select affiliate networks. This means if you click on an affiliate link below, Sheebes will earn a small commission, at no cost to you.
---
HOW YOU CAN LEARN TO CYCLE ALONE

GET THE CYCLING GEAR
Before you begin cycling, it's a good idea to have a few key pieces of cycling gear to make your cycling time safe and enjoyable.
Bike. If you don't already have a bike then you'll need to consider a bike that fits you in three main ways:
Size: bike sizes range from extra small to extra large. A local bike shop can help you find the right size, but if you'd rather walk into the shop with a sense of what you need, then this bike fit guide will help.
Budget: bikes range in price from several hundred to several thousand. In short, pricier bikes feature different frame materials and components.
Cycling needs: there's a bike for every type of riding you might want to do. Would you rather bike in the mountains or on the road? Do you want to ride on weekends or do you plan to start racing?
Helmet. A helmet is crucial, and depending on your country, wearing one may be a legal requirement.
But not any old cycling helmet will do, especially if yours was involved in a crash (if it was, replace it now).
Helmets have a limited lifespan, and the US Consumer Product Safety Commission (CPSC) recommends replacing your helmet every 5 to 10 years.
If you're on the market for a new helmet, look for one that includes a Multi-directional Impact Protection System, or MIPS for short, such as this Bell Stratus MIPS Cycling helmet 1.
MIPS technology absorbs and redirects rotational forces, potentially reducing the severity of brain injury. If you'd like to learn more about MIPS, see here.
Front and rear cycling lights. Like helmets, front and back bike lights may be required depending on your country and local state laws.
Front bike lights brighten the road ahead, signal your presence to drivers and pedestrians, and reduce bike accidents 2.
If you have a Garmin Edge, this Garmin smart front light integrates with your computer to adjust light under changing conditions. And this highly rated Garmin tail light gives you warning of approaching vehicles.
If you don't want to get too fancy, then this rechargeable front and rear cycling light set is a great affordable option.

DO A PRE-RIDE BIKE MAINTENANCE CHECK
Whether you're planning a short bike ride or a long one, these are the things to do before you head out.
Inspect your tires. Inflate your tires to the proper psi and check for any holes or tears.
Examine your bike chain. Spin your pedals counterclockwise to ensure your chain is moving smoothly and noiselessly. If it's not, you'll want to clean and oil your chain.
Check your brakes. Squeeze your brake levers to make sure they're gripping your wheels or disc.
Do a quick test ride. A short test ride down the street will alert you to anything else that needs attention.
Need even more bike maintenance information? These are great resources: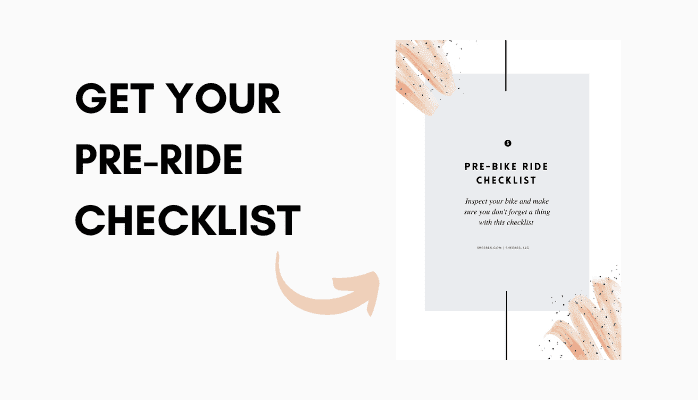 STAY SAFE WHEN YOU'RE CYCLING ALONE
In specific states, wearing headphones may be illegal. The reason? Headphones block critical sounds, such as an approaching vehicle, a cyclist might rely upon to navigate traffic.
Whether you're pro or anti-headphones (or maybe wearing only one side) while cycling, it isn't allowed in California, Rhode Island, and Virginia. 3
Vary your route. If you like to cycle alone often at a specific time, use different routes to create unpredictability in your routine. This cycling tip isn't only for safety—it also prevents boredom with your cycling habit.
Find bike-only paths. It may be less stressful for you to find a bike-only path to ride on, especially if you're learning how to cycle alone, or are returning to cycling after a long break.
Bike paths, for pedestrians and bikes, separate you from traffic so you can focus on your riding ability and bike handling skills before negotiating traffic.
Ride with essential safety gear. Sometimes, a ride doesn't go as planned. But you don't have to stay stranded if you have these few pieces of essential cycling gear.
Bike pump. A flat tire can put a damper on your ride, but a small portable bike pump ( Pro Bike Tool Mini Bike Pump) can get you back on the road quickly.
Bike computer. Need to know where you are on your route? Track your mileage? A bike computer, like a Garmin Edge 520 can give you all the details.
Medical identification bracelet. You can convey important medical information quickly with a medical identification bracelet, like a RoadID Medical Alert bracelet. With this, you can customize a faceplate to display medical information to First Responders, such as your emergency contact phone number and allergies.
Multitool. A multitool—such as this Fix It Sticks tool that's both lightweight and portable— can help you with off-road repairs.

BUILD ON YOUR CYCLING MOTIVATION
Now that you've taken the first big step—getting started—how do you keep that momentum going?
You'll find cycling advice within these posts that may help:
If you find yourself frustrated with your cycling progress, then you might need to change your goal setting tactic with this cycling goal setting tip.
If you're wondering how to prepare for long bike rides, then here you'll walk away with 5 long bike riding tips that will help you prepare for a long bike ride.
If you want to create a consistent habit, finish a long ride, or pursue any cycling goal, then forging cycling mental toughness will get you there.
2 CYCLING SAFETY APPS YOU NEED TO KNOW ABOUT
bSafe, an app available for iOS and Android, tracks your location with live GPS tracking.
The app also includes a 'Follow Me with Timer' feature. You have bSafe follow your steps for a specific length of time. If you haven't checked in when the time's up, the alarm will alert your friends.
ROADiD, an app available for iOS and Android, uses an 'eCrumb Tracking' feature to share your location while riding. If you've stopped moving for over 5 minutes, the 'Stationary Alert' will notify your selected contacts.
The app includes an ability to customize your phone's lock screen to provide your medical information to First Responders in case of an emergency.
CONCLUSION
There you have it—the cycling gear, pre-ride checklist, safety tips, and cycling motivation tips to help you cycle alone safely.
Not up for cycling outside? Check out this post on indoor cycling for a quality ride indoors.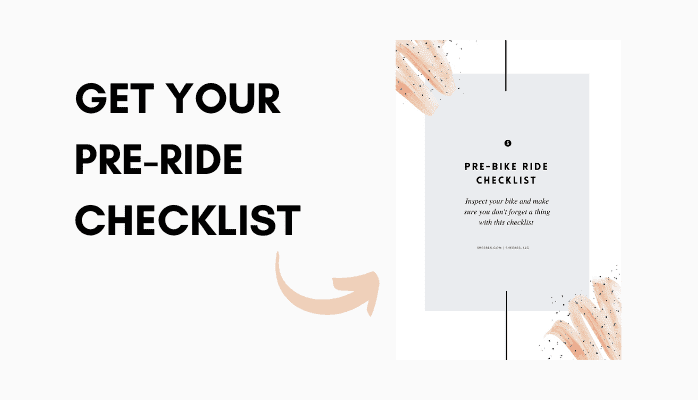 ---
Sources