Did you go for a bike ride and returned with tired legs after cycling?
There's the good kind of tired—where you gave it your all and bounced back quickly, ready for another bike ride.
And there's the other kind of tired—the one where you also gave it all you've got, but your legs are now like lead weights. Even climbing stairs is too much.
"Why are my legs so tired after cycling?"
If you've been asking yourself this question, then this post is for you.
We'll jump into the top reason why your legs are so tired after cycling and what you can do to turn it around.
Welcome to Sheebes—the site that's here to help you build your mental toughness and pursue new personal records.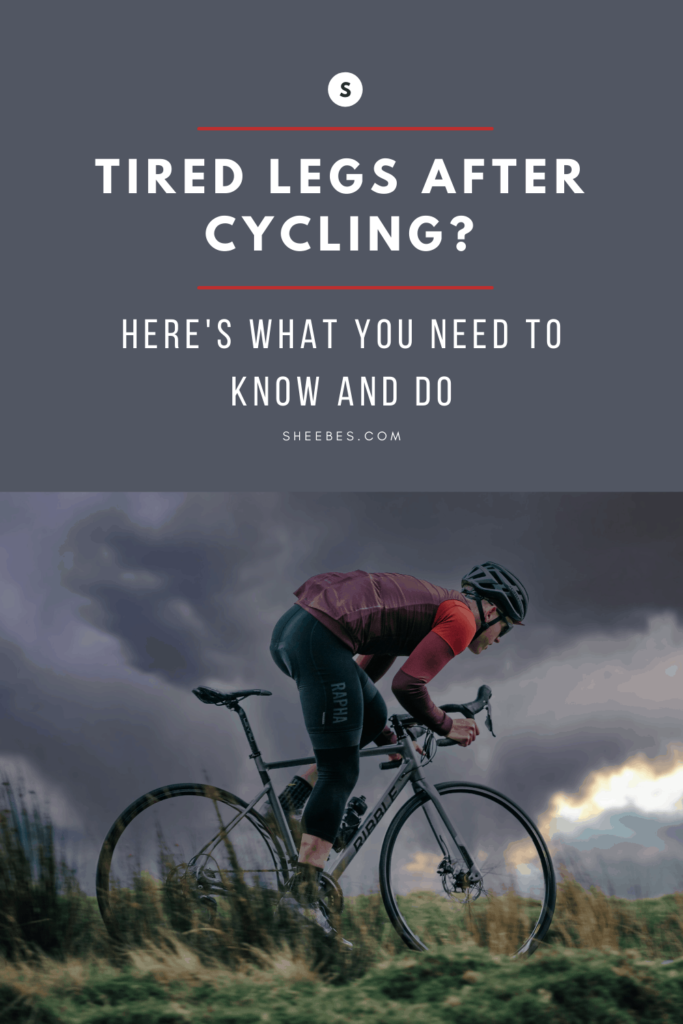 Sheebes is here to give mental toughness tips and resources to help you, the endurance athlete, achieve your personal best. To keep the lights on and content free, we are a participant in the Amazon Services program and other select affiliate networks. This means if you click on an affiliate link below, Sheebes will earn a small commission, at no cost to you.
---
Tired legs after cycling? Here's what you need to know and do
Sometimes in cycling, it's easier to keep going to seize more fitness gains.
More is better, right?
Well, until your body tells you otherwise. Pushing yourself too hard too often (or doing too much too soon) is the biggest reason why your legs are tired after cycling.
Did you increase your biking? Have you made it more intense?
Tired legs are an alert, a notification, to rest.
Without letting your muscles rebuild and strengthen through rest, progress stalls, and you'll end up working harder than necessary.

Tired legs? Take a day off from cycling
Cycling depletes your energy, creates muscle trauma, and reduces muscle strength.
Because of this and without enough recovery sandwiched between hard cycling efforts, you'll find yourself either underperforming, and you'll feel much more leg fatigue in cycling.
Instead, consider a day off to heal, rebuild, and progress.
A day off can also help you:
Recharge physical and mentally
Reevaluate and refocus on your goals
Rebuild your muscles
Reduce your injury or overtraining risk
Pursue activities you enjoy (Can't get enough cycling info? Catch up on the best cycling books, documentaries, audiobooks, and podcasts.)
Though a rest day may be what you need today, revisit your cycling plan to be sure you're scheduling enough rest days overall (usually after a hard workout).
We respond to physical stressors differently—what works for one person might not work for you—so take the amount of rest you need.
Rest to progress.
We often believe that mental toughness means active action, but mental toughness also requires courage and patience to rest. If you'd like to learn more about mental toughness, then grab this free download now.


Got fatigue after cycling? Feed your muscles
You'll need fluids, electrolytes, energy, and carbohydrates to rehydrate from sweat loss and restore muscle glycogen to turn around your tired legs after cycling.
Before we dive into general cycling recovery food guidelines, you have individual energy requirements, food preferences, and performance goals.
If you need specialized sports-nutrition, see a qualified sports dietitian*.
A sports dietitian can analyze your nutrition intake and give you a customized plan to support your activity level and performance goals.
*Credential to look for: The Board Certified Specialist in Sports Dietetics (CSSD) is a sports nutrition credential in the United States and internationally. It's for nutritionists who focus on sports nutrition and who have vast experience in working with athletes.
Let's look at what to eat to help you recover from tired legs after cycling.
Carbs 1. Carbs give you the energy to ride but you can't ride forever without refueling. You'll eventually need to refill your tank with more carbs to restore your energy. 
Shortly after a ride, aim for ~1.0–1.2 grams per kilograms per hour for 4 to 6 hours to rebuild your energy stores.
Protein 2. Consume high-quality protein sources of roughly ~0.25–0.3 grams per kilograms per body weight to give you amino acids to build and repair muscle tissue.
Cherry juice. Did you know that cherry juice can speed recovery? 3 The anthocyanins in Montmorency cherries have anti-inflammatory and antioxidative properties that can reduce inflammation and oxidative stress and help the muscles recover.
Side note, Montmorency cherry is a type of tart cherry grown in North America.
This study had marathoners drink 8 ounces of cherry juice twice a day for five days before their marathon and two days after their race. Runners who drank cherry juice had less inflammation 24 to 48 hours after a race.
Want to dive deeper? This book may help: Fuel Your Ride: Complete Performance Nutrition for Cyclists, by Molly Hurford.

Turn around your tired cycling legs with sleep
We've all heard it before—sleep is vital—and it's even more so if you're an active person.

If you work out hard but shortchange sleep, then you're only doing half of what's needed to become a stronger athlete.
Your hard work isn't fully realized until you go to sleep.

Sleep is where the body releases growth hormones and androgens critical to muscle repair, muscle building, bone growth, and promoting fat oxidation.
Without sleep, you'll have poor performance 4 5, reduced motivation, attention, and concentration.
Though getting more sleep is easier said than done, try for at least 7 hours to reap the benefits of more energy and motivation.
CONCLUSION
Tired legs after cycling? This is the body's way of telling you to rest, to rebuild, and repair.
If you work out hard but skimp on recovery, then you're only doing half of what's needed to become a stronger athlete.
Take a day off, refuel your body, and sleep.
Rest to progress.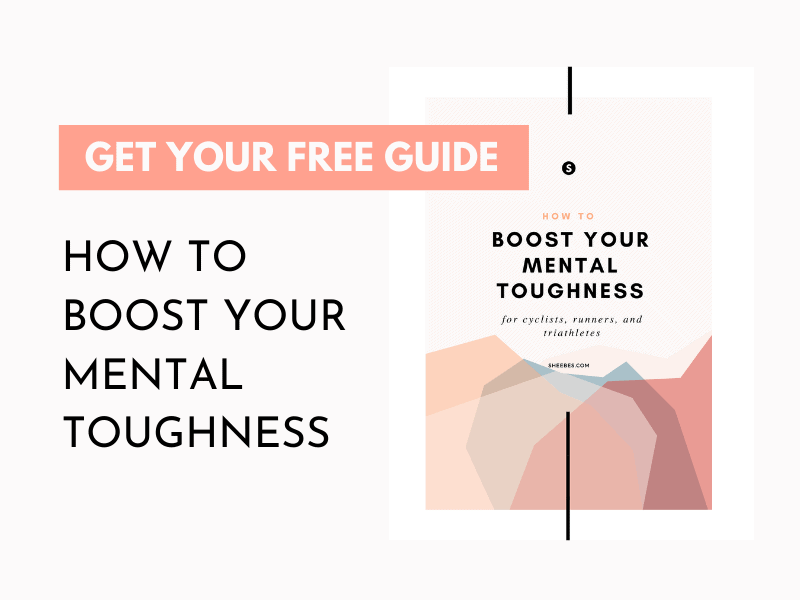 Sources