Are you running a 5K soon and have questions like this?
What should I do before my race?
What should I eat the morning of my 5K?
How should I run all 3.1 miles?
In this post, you'll find the answers to those questions, and the top tips for running a 5K so you can be prepared and ready for your race.
Welcome to Sheebes—the site that's here to help you build your mental toughness and pursue new personal records.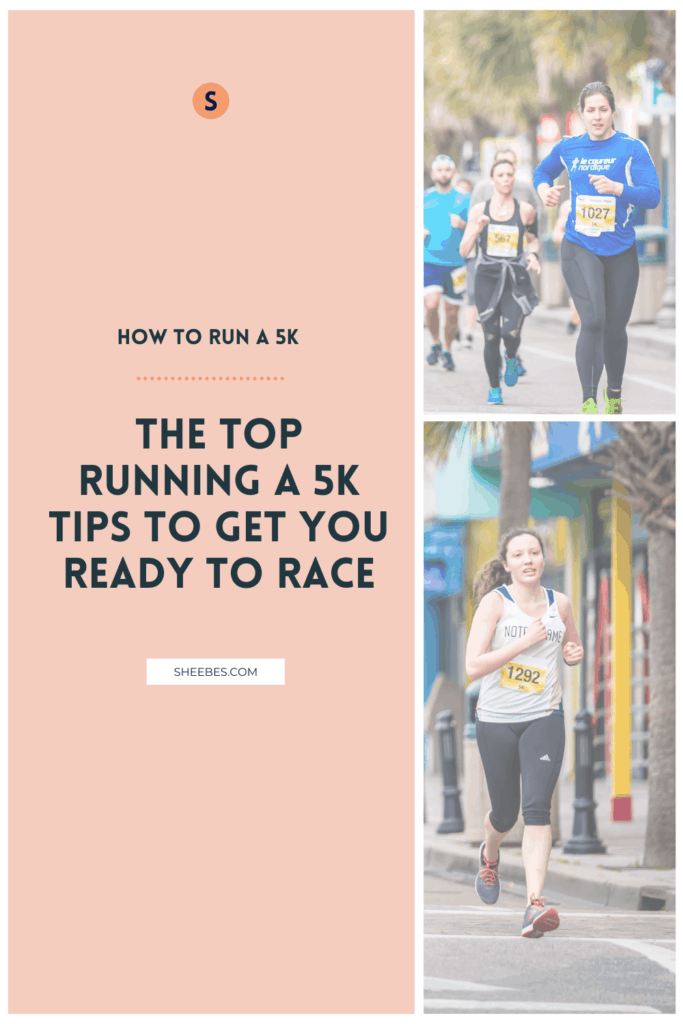 Sheebes is here to give mental toughness tips and resources to help you, the endurance athlete, achieve your personal best. To keep the lights on and content free, we are a participant in the Amazon Services program and other select affiliate networks. This means if you click on an affiliate link below, Sheebes will earn a small commission, at no cost to you.
---
RUNNING A 5K? TOP TIPS YOU NEED TO KNOW BEFORE RACE DAY

Grab your old, warm clothes
You'll probably find yourself waiting for the race to start. But if the weather's cold, rainy, or cold AND rainy, you'll be far more comfortable if you stay warm and dry.

If your race day forecast is cold…
Your old, warm clothes (aka, throw away gear) will keep you toasty until you've warmed up enough to take off and throw aside.
Most runners shed this layer near the start. It's usually tossed off to the side, away from the path of other runners.

If your race day forecast is rainy…
Grab a trash bag to wear over your running clothes to stay dry. Or, you could try a disposable rain poncho or a reusable lightweight packable poncho.
Just note, this waterproof layer isn't breathable, so if you decide to run with this layer, you might feel pretty uncomfortable.

Create your 5K race day mantra
A running mantra, or a series of words recited repeatedly, can encourage you to keep going, speed up, and fly to the finish line. (You're most likely going to rely on your mantras in mile 2.)
It could be a phrase like, 'you've got this', or 'stronger with every step'; whatever it is, it just has to work for you.
Need help with running mantras? You'll learn how to create the best running mantras here. And if you don't want to come up with a mantra from scratch, you can always steal one from the running mantra list.
Running mantras play a key role in running mental toughness. Your running mental toughness can help you dig a little deeper and boost your motivation. Want to know more about building your mental toughness? Download this freebie now.


Trust yourself and your training
It's tempting to squeeze in a few more runs before your race to prove you're ready.
But, if you've followed your training plan, then trust that you are ready to race.
If you doubt your race readiness, review what you've done to prepare for this race. Pay special attention to those runs that went well.
And remember, your training didn't have to be perfect to run this race.
WHAT TO EAT THE MORNING OF YOUR 5K
You don't have to eat anything different than your usual breakfast before a race.
Whatever your usual routine is before running, stick with that because you don't want to introduce something new and untested before your race.
Do you still have time between now and race day?
If you do, then try foods before your training runs to see what works for you and what doesn't.
TIPS FOR RUNNING A 5K | WHAT TO DO IN EACH MILE OF YOUR 5K
Mile 1
It's easy to get swept away in the excitement of the first mile. And this makes it the most mentally difficult one.
Adrenaline makes your race pace feel effortless, so it's natural to use it in your favor to pick up the pace.
Don't fall into the trap of going out too fast. You won't lose time if you stick to your own pace (even though runners are blasting past you), and you need to save energy for the next two miles.
Stay controlled for the first mile.
Mile 2
The second mile is when it begins to burn, and it's part of racing the 5K.
But these tips for running a 5K can pull you through this mile.
Focus on your arm swing. Take your mind off the burn by focusing on something else, like your arm swing. Keep your arms swinging front to back, and imagine you're holding an egg in each hand to help you stay relaxed.
Soak up the energy around you. There's energy in the air—from cheering crowds, friends, and family—that you can soak in, bottle up, and use to carry you through this mile.
Use your running mantras. Did you create running mantras? Now is the perfect time to use them.
Mile 3
If you've avoided the trap of going out too fast in the first mile, then here's where you'll use the energy you've saved. This is when it pays off.
To help you summon the finishing kick, use either a landmark or another runner to help you run faster.
Imagine that the landmark or fellow runner is reeling you in (much like a fishing rod) and pulling you closer to the finish line.
.1 to go
Can you sustain a sprint to the finish, with about 100 meters to go? If you can, then go all out here.
The finish line
Celebrate your effort. Whatever your race result, always give yourself kudos for showing up, putting yourself out there, and really trying.
THE NEXT STEP
Running a 5K doesn't stop here—there's a whole lot more that happens after running a race—in recovery.
Rest and recovery from running are where your muscles rebuild and grow stronger, which can help you get faster and avoid injury. Over on this post, you'll get recommendations on:
What to do on your day off
The best foods to eat to help you recover
And running recovery drinks to reduce muscle damage and inflammation
You've pushed yourself, and now it is time to rest.