A light bike isn't a prerequisite to cycling faster. But it does require a few smart training strategies to make the most of what you have right now.
If you're looking for tips on cycling faster, then this is for you.
In this post, you'll learn:
How to improve your road skills to cycle faster.
The resources that'll give you useful, actionable advice to help you increase your riding speed.
And, the one mental skill to help you boost your average speed.
Let's get started.
Welcome to Sheebes—the site that's here to help you build your mental toughness and pursue new personal records.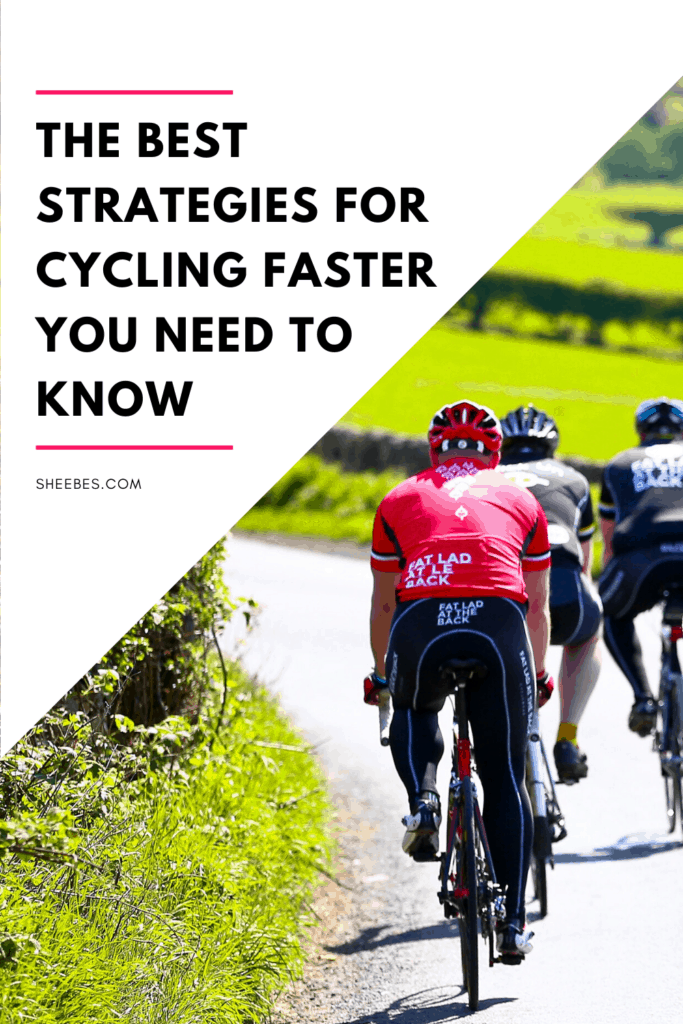 Sheebes is here to give mental toughness tips and resources to help you, the endurance athlete, achieve your personal best. To keep the lights on and content free, we are a participant in the Amazon Services program and other select affiliate networks. This means if you click on an affiliate link below, Sheebes will earn a small commission, at no cost to you.
---
3 WAYS TO IMPROVE YOUR ROAD SKILLS TO CYCLE FASTER

Aim for a smooth, even pedal stroke
Did you know that a smooth, even pedal stroke helps you go faster with less effort?
The goal is to banish 'dead spots' in the pedal stroke. Meaning, every part of your pedal stroke serves one single purpose: to move you forward.
So how do you do it?
1| Make sure your saddle's at the right height (it helps to have a bike fit)
2| Then, place your trainer and bike in front of a mirror to analyze your form.
3| Your legs should be aligned—hip, knee, and ankle should be stacked throughout the pedal stroke.
4| At the top of the pedal stroke—at the 12 o'clock position—your toes will naturally point down about 20 degrees. But as you head toward the 3 o'clock position, drop your heel so it's parallel to the ground.
5| On the upstroke and to avoid losing power, drive your knee forward to the bar. To gauge your power, you may want to invest in a power meter to help you measure your progress and improve your training. 

Learn to climb different types of hills
Your climbing strategy changes depending on the type of hill you're facing—short and steep, or a long steady incline.
Here's how you can climb those hills faster.
If it's a short, steep hill, tackle it aggressively.
That means you'll hammer the pedals to climb the hill fast. You could choose to do this either in or out of the saddle.
Since high cadence spinning slows momentum on a short, steep hill, expect to see a lower cadence of around 60 to 70 rpm.
If it's a long, slight incline, keep a steady, consistent effort.
To keep a measured effort as you climb and to avoid tiring quickly, do three things:
1| Keep your cadence high—around 80 to 90 rpm to avoid tiring your legs.
2| To save energy, stay in the saddle for much of this incline. But stand if you need to give your muscles a break.

Tackle the descents
To ride faster, you have to learn a few strategies to help you descend a hill quickly and safely.
1| Use the drops. Riding in the drops helps distribute your weight evenly between the front and rear wheels and lowers your center of gravity for more stability. But if you find yourself going too fast, you can use your body to scrub speed without braking by sitting taller to catch the wind.
2| Look through the turn. Your bike follows your eyes, so look as far through the turn so your bike travels in the same direction.
3| Feather your brakes before a turn. Lightly tap the brake levers to put slight pressure on the rims. When you do, you should only feel your weight shift forward ever so slightly. Feel a drastic shift forward? That means you're using too much pressure.
THE RESOURCES YOU NEED TO KNOW TO CYCLE FASTER
The road skills within this post are only a brief overview of what you can do to boost your speed.
For even more details, you may want to turn to some cycling books to help you cycle faster.
Big Book of Cycling for Beginners, Tori Bortman
Get Fast! A Complete Guide to Gaining Speed Wherever You Ride, Selene Yeager
Fast after 50, Joe Friel
THE ESSENTIAL MENTAL SKILL TO HELP YOU BOOST YOUR SPEED
Cycling mantras can help you cycle faster.
Research on cyclists shows that the words you repeat to yourself have an enormous impact on your riding ability.
Cyclists who used encouraging mantras rode longer than those who didn't. And cyclists who used motivational statements such as 'I can manage my energy until the end' rode a faster time trial with more power.
You can learn more about how to use cycling motivational statements here: How to boost your cycling speed with these top mantras.
Then, learn how to create a cycling mantra that works for you here: How to use cycling mantras to help you handle suffering. You'll also find the best cycling motivation quotes to help inspire your cycling mantras. 
CONCLUSION
You can cycle faster today with a few smart training strategies.
In this post, we've covered:
3 practical ways to improve your road skills to cycle faster today.
The resources that'll give you useful, actionable advice to help you increase your riding speed.
And how using cycling mantras can help you boost your average speed.
---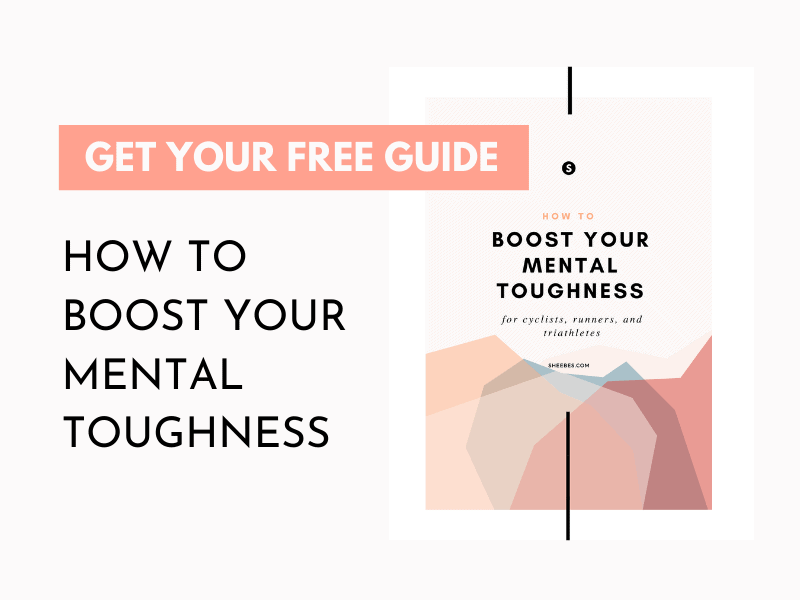 Sources
Big Book of Cycling for Beginners, Tori Bortman
Get Fast! A Complete Guide to Gaining Speed Wherever You Ride, Selene Yeager