If you're wondering how to restore your love of running and make running fun, then you've come to the right place.
Whether you're looking to begin running or if you've been running for a while, running can turn into a tedious chore.
But it doesn't have to be a chore.
You'll learn four tips you can use today to make running fun and enjoyable for you.
Welcome to Sheebes—the site that's here to help you build your mental toughness and pursue new personal records.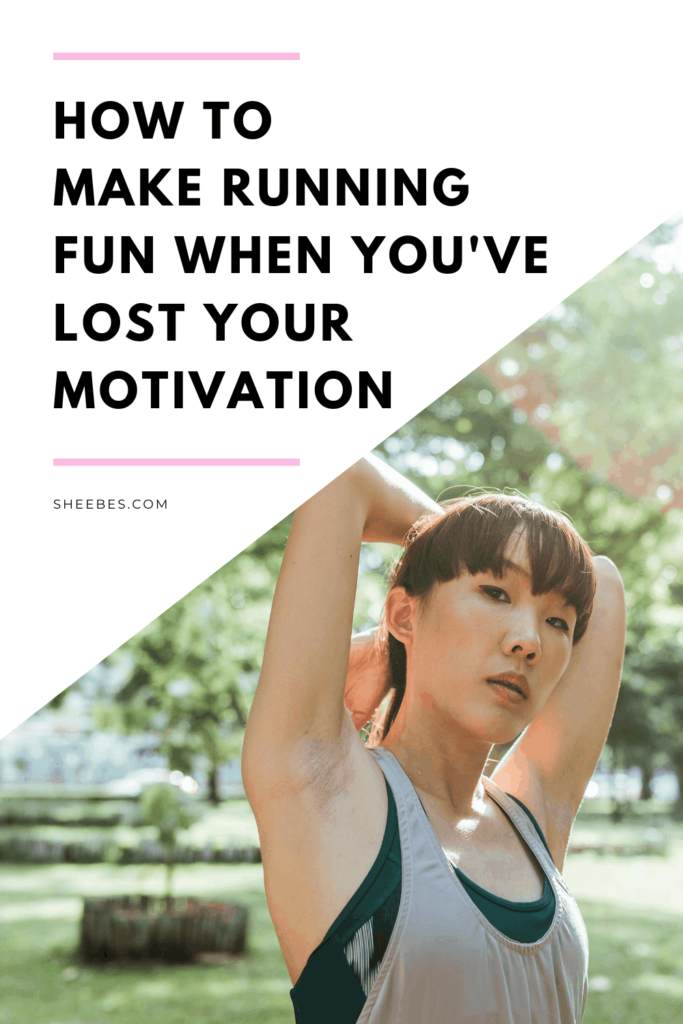 Sheebes is here to give mental toughness tips and resources to help you, the endurance athlete, achieve your personal best. To keep the lights on and content free, we are a participant in the Amazon Services program and other select affiliate networks. This means if you click on an affiliate link below, Sheebes will earn a small commission, at no cost to you.
---
HOW TO MAKE RUNNING FUN WHEN YOU'VE LOST YOUR MOTIVATION

Running for fun? Run without your watch or ignore your numbers
It may seem almost unthinkable to run without a watch. After all, it tracks your route, pace, data, and much more to help you improve your running performance.
But if running isn't fun anymore and you've lost your motivation, then that data isn't helpful and those numbers can be anxiety-producing and demoralizing.
To relieve the pressure of running performance, either leave your watch at home or wear your watch but cover up your pace. This doesn't have to be a regular habit, but consider it to see how it feels.
When you let go of the numbers, you may find yourself far more relaxed and aligned with running.

If you enjoy recording your runs in a running journal, then you may enjoy this method
There's one way you can pinpoint the things that make running fun for you, thanks to Matt Fitzgerald, author of Run: The Mind-Body Method of Running by Feel.
Here's what he recommends.
STEP 1: After a run, give it a score of 1, 2, or 3. (1 = mostly unpleasant; 2 = neutral; 3 = mostly enjoyable)
Remember to look out and note the moments you liked or didn't in your run.
Did you love trail running?
Did you have a tough run ? You can get through a tough run with these tips.
Did you hate running when it's hot? You'll find running in hot weather tips here.
Write down your likes and dislikes because it'll help you later.
STEP 2: After you've ranked every run in your week, add those numbers together.
For example,
Your total for this week = 13
Then, divide your total (13) by the number of days ran (6 days) to get your average weekly running fun score. In this case, this weekly running fun score is 2.17.
So it was a pretty neutral week, with an equal number of running likes and dislikes.
Finally, ask this question weekly: Did I have fun running this week?
If you'd been keeping score, then this question will be an easy one to answer. And, you'll be able to make adjustments to your running schedule to keep running fun.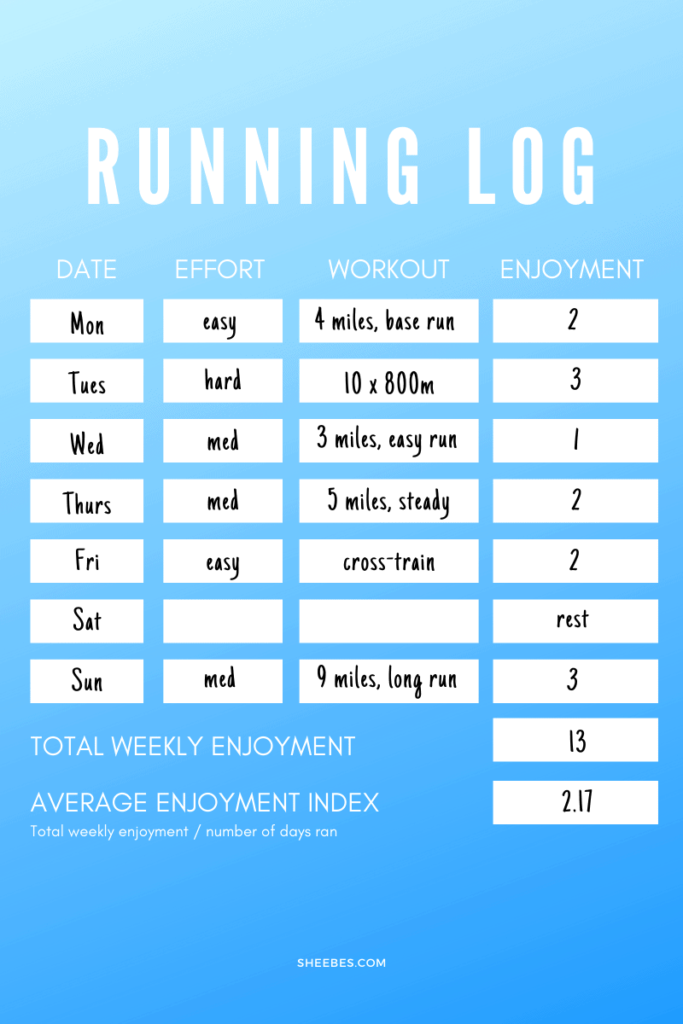 Boost your running fun quotient by setting an expectation for your run
It may seem odd to say that a run will hurt before you even begin running.
But that's what this study suggests you do.
When you expect a run to hurt, you might enjoy that workout more because it lives up to your expectations.
For example, let's say you (like the runners in the study) were told to run for 10 minutes.
After those 10 minutes were up, you were told to run for another 10 minutes.
Would you be mad about that? You might be. And you may think the second half of the run to be much harder than the first half.
But let's say you (like the runners in the experiment) set off for a 20-minute run. This time, the run is just that—20 minutes.
You may believe this run, though the same length as the first, is easier because it matches your expectations. You knew you'd run for 20 minutes and you did.
If you set your expectations beforehand, you might enjoy your run more because it lives up to your expectations.

Try an app that syncs music to your footsteps
Have you heard about or tried the Weav Run app? It's an app that syncs the beat of the music to your steps.
That means if you speed up, so will the music and vice versa. Or, you can choose and set a music tempo you enjoy.
"When your favorite song syncs to your steps — the moment you're running, dancing or playing a video game — the listening experience is transformed into something more powerful and intense. And it makes exercise a lot more fun." Visviki, Weav's Co-Founder and CEO
This app's fairly new, so right now it's only available for the iPhone, iPad, and Apple Watch. It looks like they're working on an Android version and you can stay tuned for its release here.


Distract yourself with running audiobooks and podcasts
If you don't already listen to running audiobooks or podcasts to keep your mind engaged on your run, then you might enjoy these posts.
CONCLUSION
There you have it—four ways to make running fun when you've lost your motivation.
A quick recap of those tips:
Run without a watch
Keep track of the ways running is fun for you
Set your expectation for every run
Try a music app to sync the beat of the music to your footsteps
Distract yourself with running audiobooks and running podcasts
With these tips, running can be both fun and enjoyable again.
---